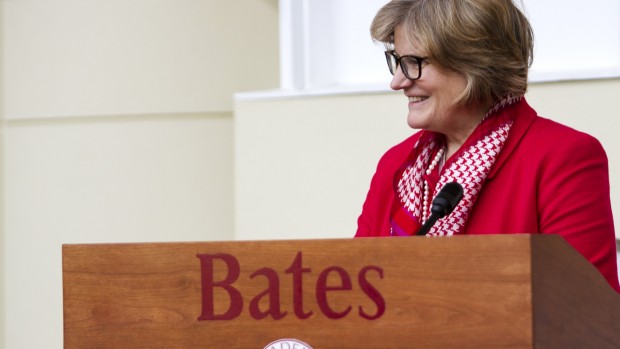 "We have ambitious goals for Bates, and I am inspired by this outpouring of support from the college community," said President Clayton Spencer.
Published on
Description

---

December 23, 2005
3:02 pm

A pioneer in the field of African American women's history and chair of the Department of African American Studies, University of Maryland, College Park, Professor Sharon Harley is the keynote speaker for the 2006 Martin Luther King Jr. Day observances at Bates College.

October 24, 2005
3:49 pm

Bates College hosts its annual Graduate and Professional School Fair from 11 a.m. to 1:30 p.m. Tuesday, Oct. 25, in the Clifton Daggett Gray Athletic Building, Central Avenue.

October 12, 2005
3:56 pm

Ninety-six percent of Bates College seniors and alumni applying to graduate programs in the health professions for fall 2005 matriculation were accepted.

Ninety-one percent of Bates applicants were accepted into medical or osteopathic schools, vs. a national average of around 49 percent, according to a report issued on Oct. 10 by the college's Medical Studies Committee.

July 28, 2005
9:25 am

President Elaine Tuttle Hansen has announced five appointments to the Bates College Board of Trustees: Robert E. Burke of Boston, Mass.; Marjorie Northrop Friedman of Dallas, Texas; Jennifer L.Guckel of Charlestown, Mass.; Dana Petersen Moore of Baltimore, Md.; and Quoc K. Tran of Omaha, Neb.

May 26, 2005
11:44 am

Five honorary degree recipients will speak at the 139th commencement at Bates on May 30. They are composer Thomas Jefferson "T.J." Anderson, theoretical biologist Lynn Margulis, entrepreneur and engineer Paul Soros and his wife, Daisy M. Soros, and NBC Nightly News anchor and managing editor Brian Williams.

May 17, 2005
2:39 pm

Donald "Dee" Rowe, legendary former Worcester Academy and University of Connecticut basketball coach, will deliver the keynote address at the inaugural induction ceremony of the newly created Bates College Scholar-Athlete Society at 5 p.m. Saturday, May 28, at the Mays Center on the Bates College campus. Rowe will also be inducted as the society's first honorary member.

May 5, 2005
3:05 pm

Bates College has named Pamela Baker, a biology professor known for her research into periodontal disease, as the college's first Helen A. Papaioanou Professor of Biological Sciences.

April 8, 2005
10:01 am

Bates College is one of the nation's best colleges fostering social responsibility and public service according to The Princeton Review and Campus Compact.

April 6, 2005
9:39 am

Michael J. Retelle, a professor of geology at Bates, is one of 13 scientists across the nation to share nearly $1,500,000 in National Science Foundation funding for Arctic research related to global climate change.

April 6, 2005
9:34 am

Thanks to two Bates College fellowship programs, nine Bates students will have the opportunity to pursue cultural and environmental research in countries around the globe this year.