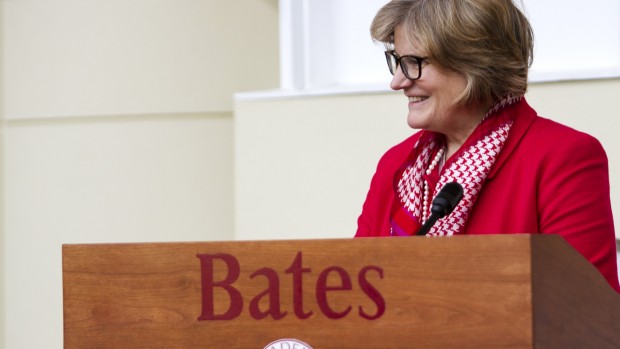 "We have ambitious goals for Bates, and I am inspired by this outpouring of support from the college community," said President Clayton Spencer.
Published on
Description

---

April 21, 2004
9:30 am

The Bates College Seminar Series on Entrepreneurship presents David Barlow, a member of the college's class of 1979 and the head of Molecular Insight Pharmaceuticals, Inc., in a discussion of his work at 7 p.m. Monday, April 26, in Chase Hall Lounge, Campus Avenue.

April 10, 2004
12:41 pm

Four honorary degree recipients will speak at the 138th commencement at Bates College May 31, President Elaine Tuttle Hansen announced today.

March 25, 2004
9:06 am

The Bates College Seminar Series on Entrepreneurship presents Michael Jeresaty, a member of the Bates College class of 1985 and a founding vice president of Garnet Health Systems Corporation, in a discussion of his work at 7 p.m. Monday, March 29, in Chase Hall Lounge, 56 Campus Avenue.

March 19, 2004
9:25 am

Eighty-six percent of Bates College seniors or alumni applying to graduate programs in the health professions were accepted for matriculation in fall 2003. Meanwhile, 84 percent of Bates seniors or graduates who applied to programs in law were accepted.

March 17, 2004
10:08 am

Chantal Berry Dalton '69, a career diplomat with the U.S. State Department, is the inaugural speaker in the new Distinguished Alumni in Residence program at Bates College.

February 4, 2004
3:51 pm

Author, filmmaker, writer and professor Melvin B. Donalson, a member of the Bates Class of 1973, will give a lecture titled "Black Masculinity in American Cinema" at 7:30 p.m., Thursday, Feb. 12, Keck Classroom (G52), Pettengill Hall. The public is invited to attend the talk free of charge.

October 30, 2003
1:21 pm

This weekend Alan Wayne '60 will complete a coast-to-coast visit of two of the nation's most historic college football fields. Last Saturday, Wayne was at the Rose Bowl with 61,788 spectators, reporting on the Arizona State-UCLA game. This weekend he will be in the stands at Garcelon Field with a number of Bates football alumni from his era.

August 8, 2003
10:46 am

Scion of a farming family in Sandwich, N.H., Booty has put her agricultural experience to work for Lots to Gardens, a Lewiston-based nonprofit founded in 1998 by another Bates student, Kirsten Walter. Booty — who is as passionate about civic involvement as she is about raising food — is the youth coordinator for the program, which uses gardening projects to strengthen community and support local young people.

April 25, 2003
9:17 am

Whatever their occupations, Bates alumni know their experiences since graduation constitute a knowledge resource that can benefit fellow alumni as well as today's students. And they're not stingy with that resource.

January 20, 2003
1:58 pm

The virtues of a liberal arts education don't spring immediately to mind when you imagine two guys putt-putting around Nantucket Harbor peddling homemade fruit juice to thirsty boaters. But there's a real connection between the entrepreneurial spirit behind a business like Nantucket Nectars — which today employs 150 and markets its extensive juice line in 40 states, Canada, Europe and the Caribbean — and the traits nurtured at small liberal arts colleges.