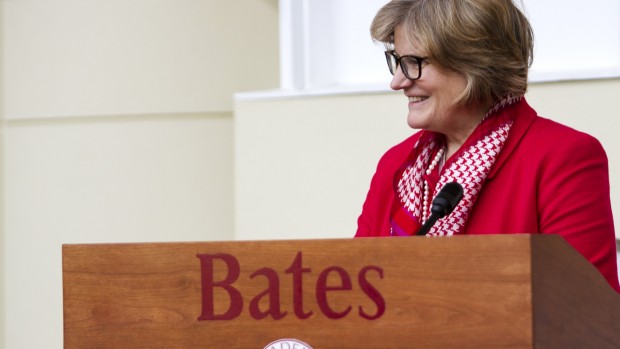 "We have ambitious goals for Bates, and I am inspired by this outpouring of support from the college community," said President Clayton Spencer.
Published on
Description

---

December 18, 2002
3:16 pm

Does the type of school an undergraduate attends really make a difference? A new survey of college and university alumni suggests that it does.

November 13, 2002
2:42 pm

Ben Ayers, a 1999 Bates College graduate and founder of an organization that supports expeditionary porters in Nepal, brings a presentation about Porters' Progress to Bates at 8:30 p.m. Wednesday, Nov. 20 in the Benjamin Mays center, 95 Russell St. Ayers' presentation is open to the public at no charge.

November 11, 2002
4:00 pm

National college guides and magazines continue to rank Bates College among the best liberal arts colleges in the nation.

October 15, 2002
3:24 pm

In an appearance sponsored by the Bates Democrats, U.S. Rep. John Baldacci pays tribute to the late Edmund S. Muskie, who served as Maine governor, U.S. senator and secretary of state, at 1 p.m. Wednesday, Oct. 30, in the Edmund S. Muskie Archives, 70 Campus Avenue. Baldacci's talk is open to the public at no charge.

June 8, 2002
9:06 am

Bates College presented awards to distinguished alumni Saturday at the college's Reunion Weekend 2002, held this year from June 6 to 9. The Rev. Arthur E. Higgins '43, received Bates' highest honor, the Benjamin Elijah Mays Award. Paula M. Colahan '87, received the Distinguished Young Alumni Service Award. Norman E. Brackett '52, received the Alumni Community Service Award, and David O. Boone '62 and Carol Huntington Boone '63, received the Helen A. Papaioanou '49 Distinguished Alumni Service Award.

May 27, 2002
3:38 pm

Nobel laureate Steven Weinberg asked Bates College's graduating class Monday to join him as "allies in a movement that is about 300 years old – the movement known as the Enlightenment."

May 24, 2002
9:51 am

Four area residents will receive bachelor's degrees during Bates College's 136th commencement exercises Monday, May 27, in an outdoor ceremony on the main campus quadrangle. Stephen Weinberg, noted physicist and Nobel laureate, will receive an honorary doctor of science degree and deliver the commencement address. In his last commencement before retiring, Donald W. Harward, president of Bates College, will confer bachelor's degrees on approximately 420 seniors at 10 a.m. in an outdoor ceremony in front of Coram Library. In the event of rain, graduation exercises will be held in the nearby Margaret Hopkins Merrill Gymnasium.

May 14, 2002
2:09 pm

Nobel laureate Steven Weinberg, recognized internationally as one of the world's most profound thinkers and as a scientist who bridges the literacy gap for general audiences, will receive an honorary doctor of science degree and speak at the 136th commencement at Bates College.

May 9, 2002
2:30 pm

Bates alumnus John Carrafa, Class of 1976, was nominated May 6 for two Tony Awards for Best Choreography for "Urinetown, The Musical" and "Into The Woods."

May 3, 2002
3:28 pm

U.S. Navy Lt. Cmdr. J.J. Cummings and his wife, Sara Hagan Cummings, both Bates '89, were interviewed March 26 and 27, 2002, when Cummings' aircraft carrier, the USS Theodore Roosevelt, returned to Norfolk, Va., after an extended deployment off Afghanistan.