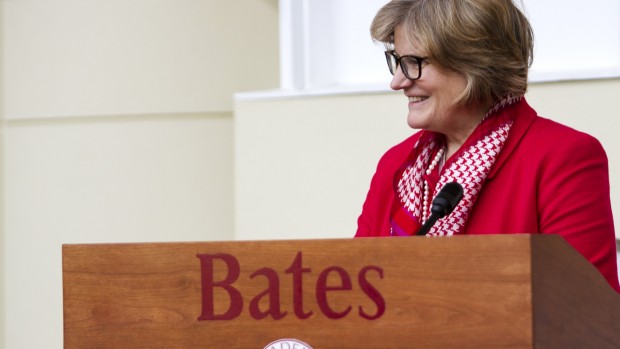 "We have ambitious goals for Bates, and I am inspired by this outpouring of support from the college community," said President Clayton Spencer.
Published on
Description

---

January 31, 2002
2:47 pm

In Salem, Ore., on Jan. 22, Andrea Corradini '92 was one of approximately 11,500 runners in the Olympic Torch Relay who have conveyed the flame from Atlanta to Salt Lake City, where the Winter Games begin Feb. 8.

January 18, 2002
3:35 pm

All of the 27 Bates College seniors and alumni who applied to graduate programs in the health professions in 2001 were accepted, according to a report by the college's medical studies committee.

January 18, 2002
2:43 pm

Auburn resident Elizabeth K. Sheppard is the new director of alumni relations at Bates College, Vice President for Alumni Affairs and External Relations William W. Hiss recently announced.

January 7, 2002
4:05 pm

Timothy Leach, a 1999 graduate of Bates College, discusses his fact-finding tour of the Arctic National Wildlife Refuge (ANWR) in a lecture at 7:30 p.m. Monday, Jan. 14, in the college's Chase Lounge, on Campus Avenue. The presentation is open to the public at no charge.

December 26, 2001
4:16 pm

New York architect Elizabeth Donoff discusses her photographs of two structures designed by Le Corbusier, one of the 20th century's most influential architects, in a lecture Friday, Jan. 11, at the Bates College Museum of Art.

November 2, 2001
3:10 pm

Evette Rios, a member of Bates Class of 1999 and an entrepreneur in network marketing, will discuss strategies and ethics for new entrepreneurs Monday, Nov. 5, in Chase Hall Lounge at Bates College.

July 16, 2001
1:44 pm

Ian Bleakney '91, a science teacher and department chair at Merritt College High School, a small public high school, in Oakland, Calif., was recently awarded the 2001 Barlow Alumni Travel Grant from Bates College.

June 27, 2001
4:19 pm

Bates College presented awards to distinguished alumni at the college's Reunion Weekend 2001 held this year from June 15 to 17. John A. Kenney, M.D., class of 1942, was presented with the Benjamin Elijah Mays Award, while Sally Ehrenfried, class of 1989, received the Distinguished Young Alumni Service Award.

June 19, 2001
8:17 am

2001 cum laude graduate Nicole Goloskov of Chadds Ford, Pa., has produced "Camera Obscura," a video portrait of Rockland, Maine, photographer Chris Pinchbeck, to be broadcast Saturday, June 30, and Sunday, July 1, as part of the Maine Public Broadcasting television series "True North."

June 14, 2001
8:53 am

Don't let anxiety about income prevent you from seeking a balance in life, former Secretary of Labor Robert B. Reich told Bates College graduates, their families and friends during Commencement exercises Monday, June 4.