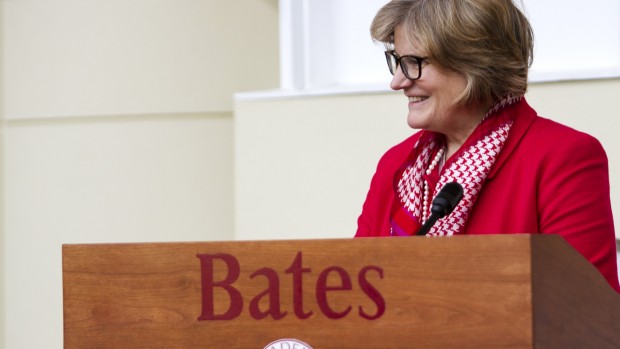 "We have ambitious goals for Bates, and I am inspired by this outpouring of support from the college community," said President Clayton Spencer.
Published on
Description

---

February 1, 2013
3:25 pm

Nate Boone '52 and other Montford Point Marines were awarded the Congressional Gold Medal in 2012 for the achievement of…

January 31, 2013
3:55 pm

Hilary Poriss '91 explores the surprising variety of tasks expected of 19th-century opera singers in a lecture on Feb. 6.

January 18, 2013
10:16 am

The blog, featuring objects from the Cooper-Hewitt National Design Museum collection, is the brainchild of Caroline Baumann.

December 6, 2012
4:24 pm

These first-graders at Equitas Academy in Los Angeles have made Bates their own.

December 5, 2012
1:44 pm

Lena Sene '00 is a managing parter with Deer Isle Capital and an expert on global investing in Africa.

October 29, 2012
2:42 pm

A marine science researcher will reveal how technology can be used to study the feeding behavior of humpback whales, in a lecture on Nov. 6.

October 18, 2012
2:29 pm

How does the world inspire ideas? How do ideas like competition and collaboration play out in the world?

October 17, 2012
1:56 pm

Increasing short-term relief aid — although an important stopgap measure — is not a durable solution for Yemen.

October 1, 2012
1:47 pm

Up next in a series of talks connected with the Bates College Museum of Art exhibition "Starstruck" are presentations by an astronomer from Yale and by an artist showing work in the show.

September 26, 2012
4:16 pm

Bates College alumni with careers in social activism offer a panel discussion titled "The Path From Activism to Leadership" Sept. 29.