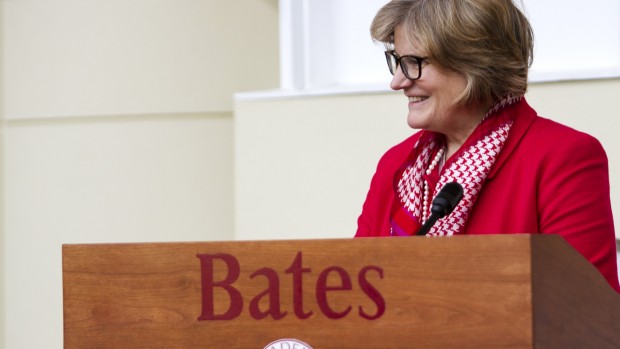 "We have ambitious goals for Bates, and I am inspired by this outpouring of support from the college community," said President Clayton Spencer.
Published on
Description

---

June 1, 2012
3:50 pm

The inaugural award for distinguished service belongs its namesake: Bruce Stangle '70.

May 27, 2012
12:42 pm

Thank you Michael [Chu '80, trustee citation presenter]. I'm sure you're thinking: Wouldn't it have been cool if Michael Chu…

May 27, 2012
12:38 pm

Thank you, Val [Smith '75, trustee presenter], for that lovely introduction. Congratulations to the Bates Class of 2012. What an…

May 27, 2012
12:35 pm

Yesterday I met my fellow honorands for the first time, and I decided that I instantly love them, but now…

April 17, 2012
10:00 am

Bates Commencement 2012 will take place on the historic Quad at 10 a.m. Sunday, May 27.

April 11, 2012
3:29 pm

It helps to "have a bias towards saying 'yes,'" say Bates alumni who work in creative fields and who returned to campus for a workshop sponsored by the Bates Career Development Center.

March 22, 2012
10:13 am

Understanding how self-control works — and when and why it doesn't — is a hot topic in psychology.

March 12, 2012
1:31 pm

Reporter David Rosenbaum of CFO.com highlights the prize-winning open-source financial application created by Pranav Ghai '93 and Alex Rapp '93….

March 12, 2012
11:08 am

The Portland Press Herald's Ray Routhier offers a Q&A interview with Eben Miller '96, whose book Born Along the Color…

February 17, 2012
3:18 pm

The first-ever New York Bates Alumni Dance Concert takes place Friday and Saturday, Feb. 24 and 25, at the arts center called Spoke the Hub Dancing in Brooklyn.