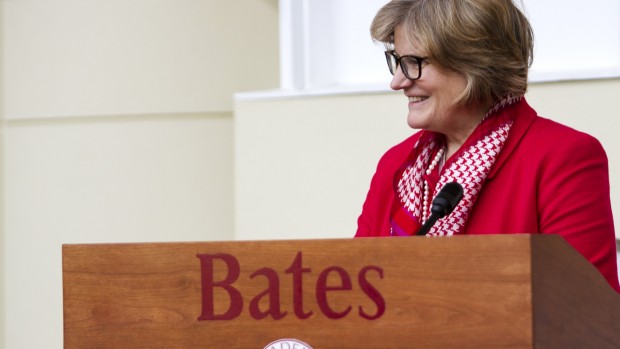 "We have ambitious goals for Bates, and I am inspired by this outpouring of support from the college community," said President Clayton Spencer.
Published on
Description

---

July 25, 2014
2:31 pm

Coming up at the Bates Dance Festival are the popular Musicians' Concert and a pair of performances exploring changing times in South Africa and China.

July 23, 2014
3:38 pm

Thanks to funding from a partnership of institutions in Maine, Bates will receive more than $459,000 this year to support biomedical research.

July 8, 2014
11:00 am

Theory meets practice as students learned just where their food, quite literally, gets born.

June 24, 2014
12:32 pm

At home, they're called leftovers. In the parlance of Bates Dining Services, they're called "extras." Either way, having food remaining…

June 17, 2014
11:48 am

Clean Sweep 2014: reducing waste, strengthening community bonds and generating money for nonprofit organizations.

June 10, 2014
3:28 pm

Mechler's advocacy has change the face of animal welfare programs around the world.

June 10, 2014
3:27 pm

Together and as individuals, Katie and Christian embody the Bates values of citizenship, community and integrity.

June 10, 2014
3:26 pm

Leahey was joined by fellow award recipients Esther Rosenthal Mechler '64, Christian Rogers '04 and Katherine Papadonis Rogers '04, Elizabeth Metz McNab '64, and Victoria Wyeth '01.

June 5, 2014
8:38 am

Recognized as a "top producer" of prestigious Fulbright grants, Bates again runs true to form.

May 22, 2014
3:00 pm

The bane of many social science majors, statistics will be taught far differently next year, thanks to a student-faculty team led by Professor of Psychology Amy Douglass.