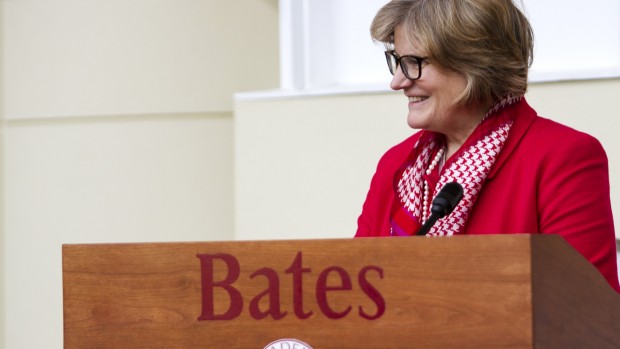 "We have ambitious goals for Bates, and I am inspired by this outpouring of support from the college community," said President Clayton Spencer.
Published on
Description

---

November 3, 2005
3:33 pm

On Friday, Nov. 11, high school juniors and seniors from all over Maine are invited to visit Bates College for the college's 25th annual Maine Day.

Starting at 8 a.m., this open house draws students and their parents from as far afield as Aroostook and York counties, typically attracting as many as 150 participants. The program includes campus tours, visits to classes and workshops relating to the Bates application process

October 24, 2005
3:49 pm

Bates College hosts its annual Graduate and Professional School Fair from 11 a.m. to 1:30 p.m. Tuesday, Oct. 25, in the Clifton Daggett Gray Athletic Building, Central Avenue.

October 5, 2005
4:01 pm

A trio led by Andy Statman, who parlayed 1970s acclaim as a "Newgrass" mandolinist into renewed renown as a klezmer clarinetist, opens the 2005-06 Bates College Concert Series on Sunday, Oct. 9.

September 15, 2005
4:26 pm

Americans for Informed Democracy, a non-partisan student organization, hosts an event this week that will allow Bates students some virtual face time via a live video link with leaders at the United Nations' 2005 World Summit. The session takes place from 1 to 2:30 p.m. Friday, Sept. 16, in Pettengill Hall, Room G13.

August 24, 2005
10:36 am

For the third year, students starting their Bates College careers will discover their new community up close and personal through a walking tour of downtown Lewiston and Auburn led by community leaders.

June 4, 2005
4:37 pm

The ninth edition of our summer leisure reading list: Each spring, the College Store solicits from members of the Bates community their suggestions for good summer reads.

April 14, 2005
10:11 am

In its highest rating ever, the Bates College athletics program has been ranked 19th out of 420 in the NCAA Division III winter rankings.

April 6, 2005
9:39 am

Michael J. Retelle, a professor of geology at Bates, is one of 13 scientists across the nation to share nearly $1,500,000 in National Science Foundation funding for Arctic research related to global climate change.

February 21, 2005
4:08 pm

Linda Pogue, a professional management development and sales training specialist, will lead a workshop at Bates titled "Presenting Well" at 7 p.m. Wednesday, March 9, in Pettengill Hall, Keck Classroom (G52).

February 16, 2005
3:44 pm

For the first time in Bates history, the men's and women's basketball teams both finished in the top four of NESCAC, giving the Bobcats home court advantage in two first-round playoff games this Saturday.