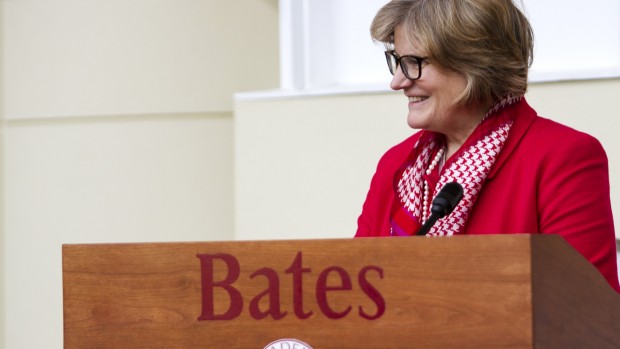 "We have ambitious goals for Bates, and I am inspired by this outpouring of support from the college community," said President Clayton Spencer.
Published on
Description

---

December 3, 2001
4:10 pm

A student from a college with an internationally recognized debate program has helped high schools in the nation's capital launch a debate league of their own.

November 16, 2001
9:53 am

Running from Dec. 6 through March 24, two exhibits at the Bates College Museum of Art approach architecture from very different angles.

November 15, 2001
9:43 am

Boston filmmakers DeMane Davis and Khari Streeter will screen the Maine premiere of "Lift," their dramatic film about shoplifting Monday, Nov. 26, in the Keck Room, Pettengill Hall, at Bates College.

September 5, 2001
4:13 pm

James McBride, an award-winning composer, saxophonist and best-selling author whose writing explores the complexities of racial identity, officially opened the 147th academic year at Bates College with the convocation address "The Color of Water: A Meditation on Identity" on Sept. 5.

June 5, 2001
3:46 pm

Bates College senior Frederick B. Brumder of Milwaukee, Wis., has produced "Prisoner of the Past: The Story of A World War II Jewish American P.O.W.," that will be broadcast Thursday, June 7, as part of "Maine Independents," a Maine Public Broadcasting television series.

January 19, 2001
9:25 am

The opening ceremony for the "Where's Rumford" photographic exhibit will be held at 4 p.m. Tuesday, Jan. 30, in the Edmund S. Muskie Archives and Special Collections Library, 70 Campus Ave. The exhibit is open to the public free of charge.

January 16, 2001
9:07 am

The 2000-01 Bates College Concert Series continues with the world-renowned Musicians from Marlboro. The touring extension of the famed Marlboro Music School and Festival in Vermont will perform at 8 p.m. Friday, Jan. 26, at the Olin Arts Center Concert Hall, 75 Russell St. The performance is part of the college's six-concert series of classical, jazz and world music that runs through March 29. Tickets are $12 for general admission and $8 for students or seniors, and can be reserved by calling 207-786-6252.

January 11, 2001
8:55 am

Bates College has received a $1.5-million gift from 1953 Bates graduate James L. Moody Jr., chair of the Board of Fellows at Bates and retired CEO and chairman of Hannaford Bros. Co., announced Donald W. Harward, president of Bates College.

January 8, 2001
8:48 am

Photographer and poet Marc Yves Regis I will lecture at the opening of his exhibit, "Mississippi & Haiti: Two Peoples' Struggle to Survive Social Injustices" at 7 p.m. Friday, Jan. 12, in the lower gallery of the Museum of Art at Bates College, Olin Arts Center, 75 Russell St.

March 24, 2000
12:44 pm

Seventy student teams from grades kindergarten through high school will compete at the day-long Maine State Odyssey of the Mind Tournament beginning at 8:30 a.m. Saturday, April 8, at various sites on the Bates College campus. The 12 state champion teams that emerge from the tournament at Bates will go on to compete at the Odyssey of the Mind 2000 World Finals at the University of Tennessee, Knoxville, May 31-June 3. The public is invited to attend the state tournament at Bates free of charge.