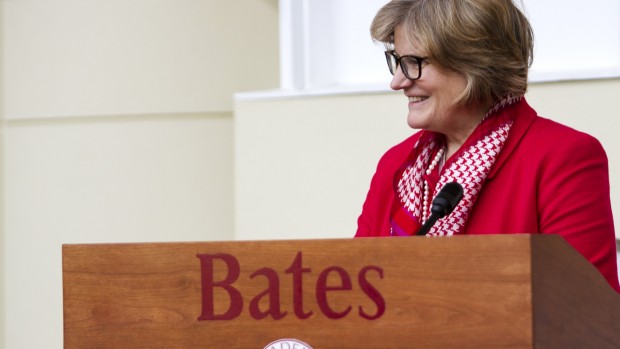 "We have ambitious goals for Bates, and I am inspired by this outpouring of support from the college community," said President Clayton Spencer.
Published on
Description

---

May 1, 2014
8:36 am

A queer, transgender Asian American slam poet from Hawaii, Kit Yan performs on May 8.

April 30, 2014
4:18 pm

In an exploration of the Latin American presence in Maine, Latino/a members of the Bates community offer a performance on May 2.

March 14, 2014
10:23 am

The ad "Dad and Papa" highlights the "contemporary boundaries and privileging of certain gay identities," Engel writes.

February 27, 2014
12:03 pm

Chief Oren Lyons, a Native American leader and environmental activist, speaks at Bates on March 3.

February 18, 2014
1:10 pm

Chief Oren Lyons, a Native American leader and environmental activist, offers a lecture on March 3.

January 31, 2014
12:37 pm

In Tanzania during the summer of 2013, Phillips Fellow Asha Mohamud '15 learned a valuable lesson about perspective.

January 22, 2014
10:19 am

As debaters from Bates and Morehouse colleges made clear, discussing Martin Luther King's dream raises more questions than it answers.

January 17, 2014
9:37 am

Playwright-actress Rohina Malik performs her critically acclaimed one-woman show "Unveiled," portraying five Muslim women living in a post 9/11 world, on Jan. 27.

January 15, 2014
10:42 am

Livestreamed at www.whitehouse.gov/live, the event is hosted by President Barack Obama and First Lady Michelle Obama.

January 6, 2014
2:06 pm

Bates will live-stream the keynote address and the annual Benjamin Elijah Mays Debate with Morehouse College.