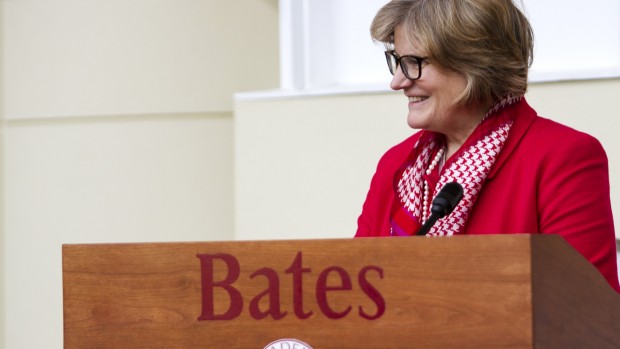 "We have ambitious goals for Bates, and I am inspired by this outpouring of support from the college community," said President Clayton Spencer.
Published on
Description

---

February 14, 2013
3:16 pm

English professor Theri Pickens has organized a March 2 symposium that will show students how knowledge about identity and difference can be put into practice in the workaday world.

February 5, 2013
4:19 pm

Please watch bates.edu/events for information about a new date for DeGruy.

February 5, 2013
12:00 pm

Red Nails, Black Skates is a crash course in Erica Rand's areas of cultural criticism, through the lens of figure skating.

January 24, 2013
3:25 pm

Coaches and students agree, athletes from underrepresented backgrounds face tough challenges.

January 22, 2013
5:00 pm

Getting 46 million Americans out of poverty will require wholesale changes in how we talk about, think about and take action around poverty, said keynote speaker Anthea Butler.

January 22, 2013
1:02 pm

As part of his welcoming remarks at the 2013 Martin Luther King Jr. Keynote Address in the Gomes Chapel, Associate…

January 21, 2013
12:00 pm

Featuring 19 Bates student-athletes and President Clayton Spencer, the video campaign supports LGBT athletes in all facets of the college's 31 varsity programs.

January 18, 2013
4:27 pm

A kaleidoscope of student creativity in the visual, literary and performing arts, Bates' third annual Arts Crawl takes place Friday, Jan. 25.

January 16, 2013
2:58 pm

The anniversary program featured Heather Lindkvist, special assistant to the president, and community organizer Sarah Davis '10.

January 14, 2013
1:14 pm

Victoria Lowe '12 discusses her Short Term dance experience and her goal of advancing arts education in the schools.