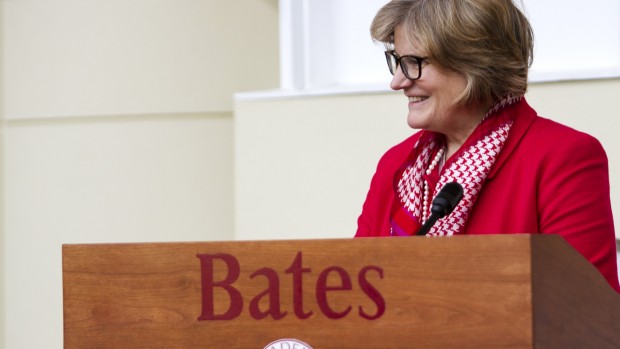 "We have ambitious goals for Bates, and I am inspired by this outpouring of support from the college community," said President Clayton Spencer.
Published on
Description

---

June 6, 1996
12:00 am

Longtime Wellesley resident Natalie Webber Gulbrandsen was one of four distinguished recipients of honorary degrees at the 130th commencement of Bates College on May 27.

March 12, 1996
11:06 am

The Maine Gay Men's Chorus will perform a concert, "Love Don't Need A Reason," at Bates College on March 17 at 3 p.m. in the Olin Arts Center Concert Hall. The public is invited to attend free of charge.

March 12, 1996
11:00 am

The recital's featured presentations will included the sonata "Undine" by Reinecke, a challenging 19th-century work for the flute and piano, and "Sonatine" by Dutilleaux, a modern French virtuoso selection.

March 12, 1996
10:52 am

The final part of Miller's talk will consider the stragegies devised by the civil rights movement within Maine as well new directions in social transformation pursued by the contemporary African American community.

March 12, 1996
10:44 am

An expert in late imperial and early modern Chinese history, she is the author of several books including "Agricultural Change and the Peasant Economy of South China," "Chinese Society in the Eighteenth Century" and "Education and Literacy in Ch'ing China" as well as the editor of "Death Ritual in Late Imperial and Modern China."

March 12, 1996
10:35 am

A consultant for "Struggles in Steel: The History of African-American Steelworkers," a documentary film to be released later this year, Hinshaw is the author and editor of numerous publications concerned with race, ethnicity and labor history, including the forthcoming book he co-edited with Paul LeBlanc, "U.S. Labor in the Twentieth Century: Studies in Fragmentation and Insurgency" (Humanities Press, 1997).

March 11, 1996
10:24 am

In his talk March 24, Chagnon will address the controversy over who — anthropologists, missionaries or government agencies, among others — has the right to represent the Yanomamo's interests to the outside world. The problem has intensified, Chagnon says, because the Yanomamo are now among the best- known ancient cultures in the world. The invasion of Yanomamo territory by Brazilian miners in 1987 focused attention on the issue. Chagnon himself has been assailed by all sides because of his refusal to endorse any of them.

March 11, 1996
10:18 am

The faculty for the all-day session includes Christopher Beam, director of the Edmund S. Muskie Archives at Bates; Robert Whelan, a lecturer in English at the University of Maine; Robert Weisbrot, a professor of history at Colby College; and Jon Oplinger, an associate professor of sociology and anthropology at the University of Maine at Farmington. The workshop will include discussion of Graham Greene's novel "The Quiet American," which examines the early days of American involvement in Southeast Asia.

February 23, 1996
10:02 am

Some of 1995′s best independent films and video works will get a rare Maine showing March 9 and 10 at Bates College when the acclaimed Black Maria Film Festival visits the campus.

More than a dozen short films and videos will be screened in the Olin Arts Center Concert Hall at 7 p.m. March 9 and at 2 p.m. March 10. Admission is $5 and tickets will be sold at the door.

February 19, 1996
9:58 am

Motivational speaker Sidney J. Rhodes Jr. will explore racism, violence, drug abuse and the mass media in a lecture at Bates College at 8 p.m. Monday (Feb. 26).

Rhodes' talk, "Freedom or Destruction," is open to the public free of charge. It is sponsored by the Bates African-American student organization, Amandla.