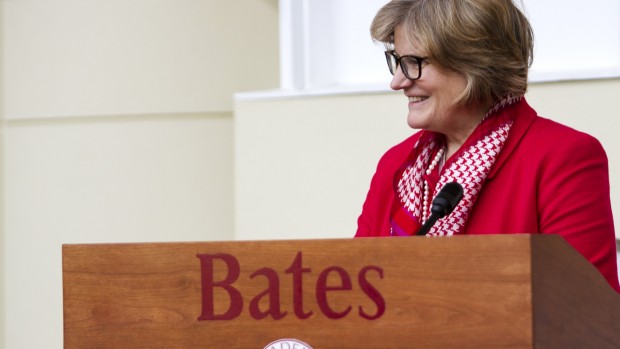 "We have ambitious goals for Bates, and I am inspired by this outpouring of support from the college community," said President Clayton Spencer.
Published on
Description

---

November 11, 2013
10:27 am

At Bates, a college that prepares students for global citizenship, training as an actor is highly valuable, says Brooke O'Harra, assistant professor of theater. Students of acting "have to start to understand how they exist in the world, how they function in relation to others."

November 8, 2013
3:31 pm

Mid-November concerts at Bates reflect the diversity and international scope of the arts at the college.

November 8, 2013
3:25 pm

A senior dance major's thesis piece and a work by the Urban Bush Women are among highlights of the Bates College Dance Company's autumn program.

November 8, 2013
3:14 pm

Visiting Assistant Professor of Music Scott Ordway leads the Bates College Orchestra in the world premiere of his Symphony No. 3 on Nov. 9.

November 8, 2013
9:55 am

The program is "all about aligning the students' ambition with opportunities," Spencer said.

November 7, 2013
2:54 pm

University of Maine Professor of Law David Owens and conservationist Colin Apse discuss freshwater sustainability measures, environmental law and the Penobscot River Restoration Project at Bates on Nov. 11.

November 7, 2013
2:04 pm

Not many people can share lessons from creating an opera. David Carpenter '94 is one.

November 7, 2013
1:53 pm

Celebrating the depth and variety of African culture, Bates presents the third annual Inside Africa Fashion Show on Nov. 8

November 7, 2013
11:55 am

Shaw's business partners with veterinarians to set up online stores offering animal medicines and supplies directly to owners.

November 7, 2013
11:32 am

A forum on youth homelessness in Maine and a talk by a leading climate change activist take place a day apart in presentations at Bates College.