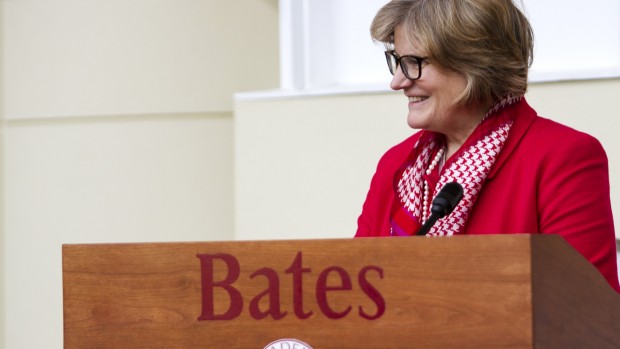 "We have ambitious goals for Bates, and I am inspired by this outpouring of support from the college community," said President Clayton Spencer.
Published on
Description

---

November 14, 2002
4:23 pm

The National Institute of Environmental Health Sciences (NIEHS) has awarded Rebecca J. Sommer, assistant professor of biology at Bates College, a grant of $132,883 to investigate the impact of dioxin on early cardiac development.

November 13, 2002
2:42 pm

Ben Ayers, a 1999 Bates College graduate and founder of an organization that supports expeditionary porters in Nepal, brings a presentation about Porters' Progress to Bates at 8:30 p.m. Wednesday, Nov. 20 in the Benjamin Mays center, 95 Russell St. Ayers' presentation is open to the public at no charge.

November 11, 2002
4:00 pm

National college guides and magazines continue to rank Bates College among the best liberal arts colleges in the nation.

November 5, 2002
4:05 pm

Rosemary Haughton and Nancy Schwoyer will describe the creation of Wellspring House, a shelter, center for social justice and land-trust enterprise a lecture titled "Change and Exchange

November 5, 2002
3:50 pm

Richard Russo, the Camden author who won the 2002 Pulitzer Prize in fiction for his novel "Empire Falls," reads from his work at 8 p.m. Thursday, Nov. 14, in Chase Hall Lounge, 56 Campus Avenue. The public is invited to attend the event, part of the Writers Harvest, the annual literary benefit to fight hunger and poverty sponsored by the national hunger organization Share Our Strength (SOS). Donations will be accepted and proceeds will benefit the Maine Coalition for Food Security and the Good Shepherd Food Bank.

October 23, 2002
9:37 am

The play's the thing when it comes to November's public arts and entertainment events at Bates College. Two productions are planned by the college's theater program (as well as two by the dance program), and there are two by the student theatrical troupe, the Robinson Players. Other performance highlights for November include two concerts by artist-in-residence Frank Glazer, a pianist of international stature. The month also holds a reading by Camden's own Pulitzer Prize-winning novelist, Richard Russo.

October 23, 2002
9:14 am

In an appearance sponsored by the Bates Democrats, the memory of Edmund S. Muskie '36 — Maine governor, U.S. senator and secretary of state — will be honored in a talk by U.S. Rep. John Baldacci at 1 p.m. Wednesday, Oct. 30, in the Edmund S. Muskie Archives, Campus Avenue. The talk is open to the public at no charge.

September 26, 2002
8:32 am

Two specialists in interpreting the natural landscape will discuss their impressions of lands protected by the Androscoggin Land Trust in 7 p.m. presentations on Saturday, Oct. 12, and Sunday, Oct. 13, at Bates College. The Saturday talk is in Chase Hall Lounge, Chase Hall, Campus Avenue, and Sunday's event is in the Keck Classroom (G52), Pettengill Hall, Andrews Road. The talks by plant ecologists Tom Wessels and Mitchell Thomashow, both of Antioch New England Graduate School, are open to the public at no charge.

September 20, 2002
3:11 pm

At a time when U.S. dependence on Middle Eastern fossil fuels has assumed ominous new overtones, a Sept. 25 lecture at Bates College holds out hope for a virtually unlimited new source of energy. In the second of two lectures that day inaugurating an "eminent scientist" series at Bates, National Medal of Science recipient Harry Gray will discuss recent progress on attempts to split water cost-effectively into hydrogen and oxygen gases, which would make hydrogen gas a feasible substitute for fossil fuels as our major energy source.

September 19, 2002
9:55 am

Populist historian and activist Howard Zinn discusses "The Legacy of the Civil Rights Movement in the Age of Terrorism" at 7:30 p.m. Monday, Oct. 14, in the Bates College Chapel. The public is invited to attend his talk, sponsored by the Bates Democrats, free of charge. Donations in the form of canned goods or clothing for the Good Shepherd Food Bank will be accepted, and a reception will follow in Chase Hall Lounge, Campus Avenue.