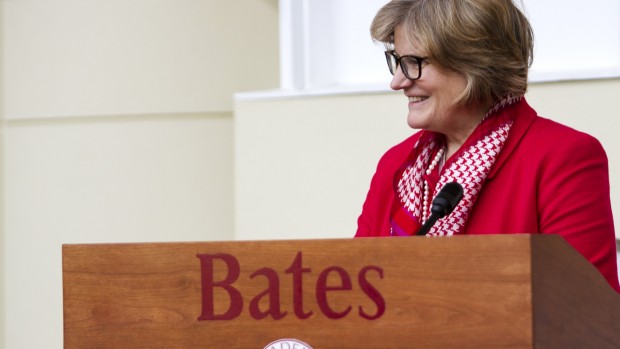 "We have ambitious goals for Bates, and I am inspired by this outpouring of support from the college community," said President Clayton Spencer.
Published on
Description

---

April 15, 2001
1:24 pm

Lewiston Middle School (LMS) will host its first Cultural Heritage Night Thursday, April 25, in the school's cafeteria. The event will feature presentations about Franco-American and Somali heritage and displays by Bates College international students, who will share their traditions, music and dress.

April 12, 2001
3:15 pm

Environmentalist Judith Shapiro will discuss Mao's War Against Nature: The Lessons for Today Monday, April 30, in the Keck Classroom of Pettengill Hall, 4 Andrews Road.

April 1, 2001
1:37 pm

A recent edition of the Chronicle of Philanthropy offers an in-depth look at how Bates College is creating extensive ties to Lewiston-Auburn and statewide communities through service-learning programs.

March 13, 2001
4:06 pm

Qamar-ul Huda, assistant professor of Islamic studies and comparative theology, Boston College, will discuss Spiritual Liberation: A Sufi View Monday, March 19, in Skelton Lounge of Chase Hall, 56 Campus Ave.

March 9, 2001
3:54 pm

The Spelman College Choir will perform Thursday, March 15, at the Bates College Chapel, College St, in celebration of International Women's History Month.

March 5, 2001
3:31 pm

Poet Brian Gilmore, the author of Elvis is Alive and Living in Harlem will read from his work Saturday, March 10, in Chase Hall Lounge, 56 Campus Ave.

March 1, 2001
2:57 pm

In a Christian Science Monitor interview, Bates Vice President Bill Hiss explains the good results Bates has experienced since making the SAT optional.

January 29, 2001
9:35 am

Colby, Bates and Bowdoin colleges are pleased to introduce Maine's first statewide online library catalog. On January 4, the Maine Info Net system was turned on and the Colby, Bates and Bowdoin library collections, with more than two million items, became available to participating libraries throughout the state.

January 25, 2001
11:43 am

In a brief but broad-ranging interview with The Christian Science Monitor, Bates College President Donald W. Harward discusses the particular value of a liberal arts education and the linking of academic rigor with service to community.

January 19, 2001
9:25 am

The opening ceremony for the "Where's Rumford" photographic exhibit will be held at 4 p.m. Tuesday, Jan. 30, in the Edmund S. Muskie Archives and Special Collections Library, 70 Campus Ave. The exhibit is open to the public free of charge.