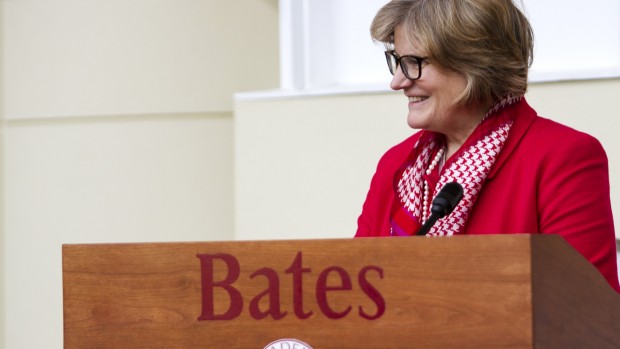 "We have ambitious goals for Bates, and I am inspired by this outpouring of support from the college community," said President Clayton Spencer.
Published on
Description

---

September 14, 2000
3:08 pm

Gisela Arandia, a Cuban scholar who focuses on race issues in Cuba and among Cubans in Miami, will discuss "Race and Racism in Cuba: A Report from the Field" at 7 p.m. Monday, Sept. 25, in the Benjamin Mays Center at Bates College as part of the college's celebration of Hispanic Heritage Month. The public is invited to attend free of charge.

September 1, 2000
2:54 pm

The Maine Development Foundation (MDF) presented its 2000 Champion for Economic Growth Award to Bates College at the organization's 22nd annual meeting held in Lewiston on Sept. 12.

July 11, 2000
3:48 pm

Kari M. Jorgensen, formerly of Northfield, Minn., received a Fulbright scholarship to conduct research in Turkey on the transition of women's roles in Islamic mysticism and Turkish politics between the late Ottoman and early Republican periods. Jorgensen also will be studying Ottoman and modern Turkish.

July 10, 2000
3:44 pm

Brunswick resident Anne Wescott Dodd, chair of the Department of Education at Bates College, has received the 2000 Kroepsch Award for Excellence in Teaching. The two-part award includes a $1,000 prize and a $1,500 discretionary fund to support Dodd's teaching.

June 20, 2000
1:59 pm

Robert Volpi, director of Bates College Dining Services, has received the inaugural Stanton Environmental Award from the Bates College Environmental Confederation, a group of staff, faculty and students who coordinate the college's efforts to raise environmental awareness and implement programs that encourage environmental sustainability.

June 13, 2000
1:50 pm

The Bates College Office of Admissions, with a grant from the Maine Humanities Council, will offer two Community Humanities Seminars for 30-40 intellectually curious and motivated high school students. The two groups, one based in Lewiston at Bates College and the other based in Paris, Maine, will meet one evening per week for five weeks.

May 30, 2000
11:38 am

Kathryn Dutille, a Bates College senior from Lebanon, N.H., has been named a 2000 Phillips Student Fellow and will receive a grant of up to $10,000 to spend the summer on a Navajo reservation in Arizona, where she will work at the Tuba City Indian Medical Center, assisting in treatment programs for diabetes, obesity and hyperlipidemia.

May 30, 2000
11:27 am

John Lichtman, a Bates College junior from Woodbridge, Conn., has been named a 2000 Phillips Student Fellow and will receive a grant of up to $10,000 to examine the intersection of environmental preservation and economic development in Kenya this summer.

May 29, 2000
2:15 pm

As members of the world's family, affluent nations should forgive the debt of Third World nations, Nobel Laureate Desmond Tutu told Bates College graduates, family and friends during commencement exercises Monday, May 29.

May 20, 2000
12:00 pm

To repay the gift that Bates made to him four decades ago, he and Beverly gave to restore Lake Andrews and create the Florence Keigwin Amphitheater, named for his aunt, and the Marjorie Burgoyne Walk, named for Beverly's mother.