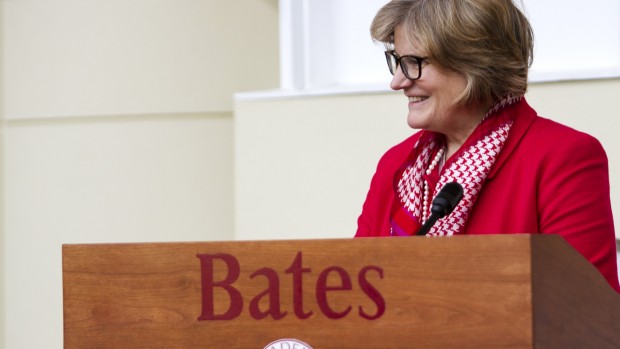 "We have ambitious goals for Bates, and I am inspired by this outpouring of support from the college community," said President Clayton Spencer.
Published on
Description

---

May 5, 2000
3:22 pm

Jason Surdukowski, a Bates College sophomore from Concord, N.H., has been named a 2000 Humanity In Action (HIA) Fellow for five weeks of intensive study in the United States and The Netherlands on historic and contemporary resistance to human rights violations.

April 27, 2000
1:13 pm

Georgia N. Nigro, Whitehouse Professor of Psychology at Bates College, will lead a roundtable discussion on "Adolescence at the Millennium: Tales From the Field" at 4 p.m. Friday, May 12, in the Keck Classroom, Pettengill Hall, Bates College. The event, which celebrates Nigro's appointment as the Whitehouse Professor of Psychology at Bates, is open to the public free of charge.

April 25, 2000
1:00 pm

Laura Cluff, Dharma teacher at the Kwan Um School of Zen and Buddhist community adviser at Wellesley College, will present "My Life, The Big Mistake: The Long Journey Out of Perfectionism" at 4:30 p.m. Monday, May 1, in Skelton Lounge of Chase Hall on the Bates campus. The public is invited to attend the final talk of the Spiritual Journeys series free of charge.

April 19, 2000
12:54 pm

Warren Leon, executive director of the Northeast Sustainable Energy Association, will discuss "Consumers' Most Important Environmental Choices" at 7:30 p.m. Wednesday, May 3, in Chase Hall Lounge, Bates College. The public is invited to attend free of charge.

April 14, 2000
12:45 pm

Bates College students Kara McKeever of Westport, Conn.; David Sharratt of Canton, Maine; and Amanda Smith of Santa Fe, N.M., have been named 2000 Phillip J. Otis Fellows and will each receive a $5,000 grant for research and travel to promote greater understanding of environmental issues and the connection between the environment and spirituality.

April 10, 2000
12:25 pm

The national environmental nonprofit Renew America announced today that Bates College Dining Services has been selected for a second consecutive National Award for Environmental Sustainability in the category of waste prevention/recycling. The prestigious awards are being given by Renew America to 16 programs throughout the nation.

March 27, 2000
1:14 pm

Performing a program of American composers, including works by George Gershwin and Leonard Bernstein, clarinetist Richard Stoltzman will give the final performance of the 1999-2000 Bates College Concert series at 8 p.m. Sunday, April 2, in the Olin Arts Center Concert Hall. Tickets are $15 for general admission and $12 for students and seniors and may be purchased by calling 207-786-6252.

March 24, 2000
12:44 pm

Seventy student teams from grades kindergarten through high school will compete at the day-long Maine State Odyssey of the Mind Tournament beginning at 8:30 a.m. Saturday, April 8, at various sites on the Bates College campus. The 12 state champion teams that emerge from the tournament at Bates will go on to compete at the Odyssey of the Mind 2000 World Finals at the University of Tennessee, Knoxville, May 31-June 3. The public is invited to attend the state tournament at Bates free of charge.

March 13, 2000
12:11 pm

The Bates College Multicultural Center and the Creative Photographic Arts Center of Maine are sponsoring an art exhibit, "Two Voices from the Diaspora," now through March 24. "Move San" ("Bad Blood") by Haitian painter Joseph Eddy Pierre and "African Elements" by weaver and mixed-media artist Joanna Boley-Lee, a Lewiston resident and director of the affirmative action office at Bates College, comprise the Creative Photographic Arts Center exhibition on the fourth floor of the Bates Mill Enterprise, 59 Canal St. Gallery hours are Monday through Thursday, 9:30 a.m. to 7:30 p.m., Friday 9:30 a.m. to 4 p.m. and Saturday 10 a.m. to 5 p.m.

March 10, 2000
12:00 pm

Bates College senior Kirsten Walter of Los Gatos, Calif., has been chosen as a recipient of the 2000 national Campus Compact Howard R. Swearer Humanitarian Award and the 2000 Gleistman Foundation's Michael Schwerner Activist Award, both in recognition of the 1999 Hillview Community Garden project she developed in Lewiston.