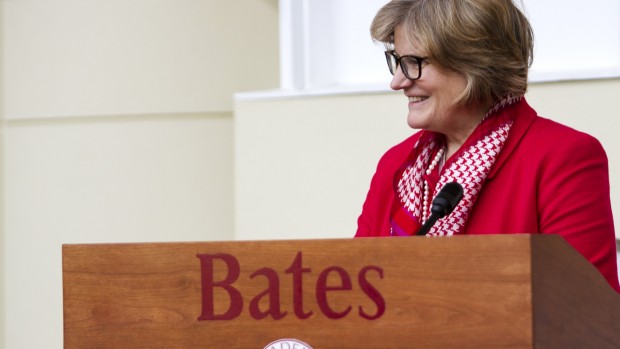 "We have ambitious goals for Bates, and I am inspired by this outpouring of support from the college community," said President Clayton Spencer.
Published on
Description

---

February 25, 1999
10:13 am

"The Red Faust," a new two-act Hungarian play based on the life of the fiercely anti-communist Jozsef Cardinal Mindszenty, will premiere in English at at 8 p.m. March 5, March 6, March 12 and March 13 and at 2 p.m. March 7 and March 14 in Schaeffer Theatre. Tickets are $6 for general admission and $3 for senior citizens and non-Bates students. For reservations or additional information, call the Schaeffer Theatre box office at 207-786 6161.

February 19, 1999
10:08 am

Vocalist Jennifer Huck, a Bates senior from Walpole, Mass., will perform a concert of works by Vivaldi, Poulenc, Rossini, Mozart, Handel, Williams and Holst at 8 p.m. March 6, in the Olin Arts Center Concert Hall, 75 Russell St.

February 17, 1999
10:07 am

Prose students of Gary Lawless, instructor in English at Bates College, will read from their works at 3 p.m. Feb. 28, in the Special Collections Room of Ladd Library.

February 10, 1999
4:23 pm

For the first time in the history of Bates College debating, a pair of Bates debaters advanced to the elimination rounds at the 19th World Universities Debate Championships, held recently at Ateneo de Manila University in the Philippines.

January 22, 1999
3:50 pm

Kate Hausbeck, Maralee Mayberry and Peg Rees, faculty members from the University of Nevada, Las Vegas, will discuss "Just Beneath the Surface: (Re) Integrating Knowledge, (Re) Designing Geoscience Courses and (Re) Reading Geoscience Texts" from 4:15 to 5:30 p.m. Feb. 5 in Room 204 of Carnegie Science. The public is invited to attend free of charge.

January 15, 1999
10:10 am

In celebration of the Rev. Martin Luther King Jr. holiday, the Bates College Center for Service-Learning and Lewiston-Auburn College will co-sponsor a "read-in" by faculty, staff and students for grades 2-6 at 9:15 a.m. and 1:15 p.m. Wednesday, Jan. 20, at the Longley Elementary School on Birch Street in Lewiston. In case school is cancelled due to snow, the read-in will be held Wednesday, Jan. 27.

January 13, 1999
10:05 am

Bates College has awarded more than $20,000 to the Auburn Land Lab, Lewiston High School, Lewiston's McMahon and Longley elementary schools as well as Morse High School and Bath Middle School through the Bates College Science Education Outreach Grant program. The awards are sponsored by Bates and funded by major grants to the college from the Howard Hughes Medical Institute, the nation's largest private funder of research and education in science and health.

January 6, 1999
3:55 pm

Novelist John Edgar Wideman, two-time winner of the PEN/Faulkner Award, and Sharon Robinson, daughter of baseball great Jackie Robinson, will speak at Bates College on Martin Luther King Jr. Day as part of a two-day series of activities and workshops focused on Two Societies: A Focus on Class through the Lenses of Race and Gender. The public is invited to attend all events free of charge.

January 4, 1999
11:59 am

Curator Ruth Fine from the National Gallery of Art will present a lecture for an exhibition of work by nationally renowned printmaker Claire Van Vliet at the Bates College Museum of Art Friday, Jan. 22. Fine's lecture, "Ordered Expressionism: Claire Van Vliet's Landscape," will be given at 7 p.m. in Room 104 of the college's Olin Arts Center, 75 Russell St. A reception follows the lecture, which is open to the public without charge. The exhibition, "In Black and White: Landscape Prints by Claire Van Vliet," features more than 30 lithographs, etchings and engravings, depicting landscapes from around the world.

December 8, 1998
12:43 pm

WRBC-91.5 FM, the 120-watt, commercial-free, student-run radio station at Bates College, will celebrate its 40th year of broadcasting with Raised on Radio, an on-air trip down memory lane with past and present WRBC announcers Saturday, Dec. 12, from noon to 4:30 p.m.