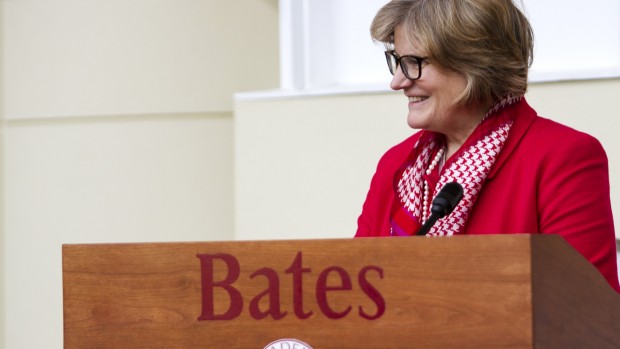 "We have ambitious goals for Bates, and I am inspired by this outpouring of support from the college community," said President Clayton Spencer.
Published on
Description

---

May 22, 2014
3:00 pm

The bane of many social science majors, statistics will be taught far differently next year, thanks to a student-faculty team led by Professor of Psychology Amy Douglass.

May 20, 2014
4:26 pm

Peter Cowan '14 reports on this culminating academic experience among Bates seniors.

May 20, 2014
2:43 pm

Professor Mary Rice-DeFosse's academic work connects to a community once defined by its French Canadian origins and now influenced by French-speakers from such African nations as Djibouti, Chad and Congo.

May 14, 2014
10:53 am

Beautiful spring weather and delicious food draw students downtown on May 7.

May 14, 2014
1:54 am

The rare all-student meeting begins a campus conversation about alcohol use and the threat it poses to the health and safety of students and neighbors.

May 13, 2014
3:48 pm

Destany Franklin '14 received the Maine Campus Compact's Heart and Soul Student Award for her work with the Hillview youth program.

May 13, 2014
2:46 pm

A Bates senior from Seattle and the college Department of Athletics were each recognized for outstanding work in public service and civic engagement by Maine Campus Compact.

May 13, 2014
2:42 pm

Seven students create dishes from their own recipes, with the "theme ingredient" being food available in Commons.

May 7, 2014
11:00 pm

In a public show of support, the Stangle family joins the multimillion dollar Catalyst Fund effort supporting the college's strategic initiatives.

May 5, 2014
4:07 pm

Known for its dedication to contemporary music, the Momenta Quartet returns to Bates for a concert on May 9.