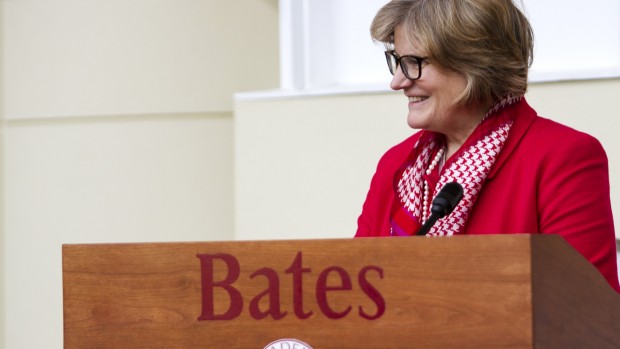 "We have ambitious goals for Bates, and I am inspired by this outpouring of support from the college community," said President Clayton Spencer.
Published on
Description

---

May 5, 2014
4:06 pm

Faculty pianist James Parakilas, Momenta Quartet perform as music majors present thesis projects on May 10.

May 2, 2014
2:28 pm

For the fourth time, Bates students and downtown businesses are eagerly anticipating Bates Night in Town, the May 7 celebration of town-gown ties.

May 2, 2014
12:00 pm

A day with Thomas Goetz '90, an author and entrepreneur who has scrutinized humanity's dance with information technology since the early Internet Age.

May 1, 2014
8:36 am

A queer, transgender Asian American slam poet from Hawaii, Kit Yan performs on May 8.

April 30, 2014
4:18 pm

In an exploration of the Latin American presence in Maine, Latino/a members of the Bates community offer a performance on May 2.

April 22, 2014
1:00 pm

In the storied history of Bates debate, the victory is believed to be the first national title by a Bates varsity team.

April 18, 2014
11:58 am

Why, Luft asks in her guest blog post, did some Hutu "evade participation and help Tutsi" instead of killing them?

April 17, 2014
3:12 pm

While men may have dominated public life in ancient Greece and Rome, women nevertheless played active roles in religious rituals….

April 17, 2014
2:37 pm

Two intriguing new programs this spring will play to Short Term's founding tradition of innovation.

April 8, 2014
2:54 pm

Lisa Barry '77, a veteran of 35 years of international government relations work, has joined the Bates Board of Trustees.