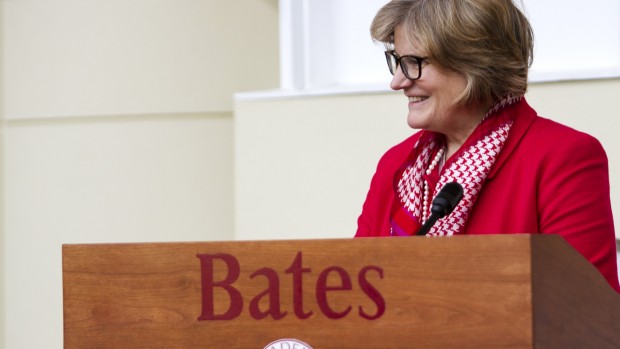 "We have ambitious goals for Bates, and I am inspired by this outpouring of support from the college community," said President Clayton Spencer.
Published on
Description

---

January 10, 2014
2:04 pm

Caitrin Lynch '89, author of a book studying a factory whose workers are a median age of 74, gives a talk based on her research on Jan. 13.

January 8, 2014
12:36 pm

"These boys have made it their mission to build New England's first and largest craft hard cider company," says Forbes.

January 6, 2014
2:06 pm

Bates will live-stream the keynote address and the annual Benjamin Elijah Mays Debate with Morehouse College.

January 6, 2014
1:30 pm

Opening on Jan. 23 are Bates College Museum of Art exhibitions exploring the field of collage and shamanist objects from northern Vietnam.

January 6, 2014
1:14 pm

For one of its two winter exhibitions, the Bates College Museum of Art focuses on collage, a genre often underrepresented…

January 6, 2014
12:58 pm

In an exhibition believed to be the most extensive of its kind in the United States, the Bates College Museum…

December 20, 2013
9:42 am

Jivko Kozarov '14 and Avril Dunleavy '15 take home the popular vote and Judges' Choice awards, respectively, in the first-ever #batesfinals Instagram contest.

December 19, 2013
12:27 pm

The Campus Life Project will establish a dynamic center of Bates life on the southeast side of campus.

December 18, 2013
12:00 pm

Their paths are, quite literally, polar opposites.

December 13, 2013
12:00 pm

"Incredibly successful" is how Director of Debate Jan Hovden describes the fall campaign.