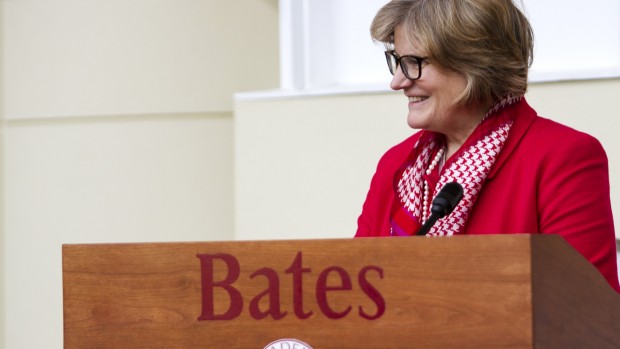 "We have ambitious goals for Bates, and I am inspired by this outpouring of support from the college community," said President Clayton Spencer.
Published on
Description

---

January 17, 2010
8:10 am

An expert in African American political and religious history gives the Martin Luther King Jr. Day keynote address at Bates at 10:45 a.m. Monday, Jan. 18, in the Olin Arts Center Concert Hall, 75 Russell St. The college traditionally cancels classes and offers special programming for King Day. This year's theme is "Faith and Ethics in the Public Sphere: What is the Dream?"

January 14, 2010
9:04 am

The Lewiston Sun Journal interviews Myron Beasley, assistant professor of American cultural studies and African American studies, and student Eric…

January 7, 2010
5:49 pm

The following workshops will be held in Pettengill Hall (unless otherwise noted), Monday, Jan. 18: Session I, 1 to 2…

January 5, 2010
11:34 am

The Cabot (Ark.) Star-Herald describes the international travels of native son Matt Chance '11, who spent the summer working at…

December 23, 2009
6:20 am

In September, Joyce White Vance '82 was sworn in as the new U.S. attorney for the Northern District of Alabama, one of the first five U.S. attorneys appointed by President Obama.

December 21, 2009
4:05 pm

Photographer Phyllis Graber Jensen traveled to New Orleans in September to photograph alums involved in various New Orleans rebuilding efforts,…

December 21, 2009
11:41 am

Army Lt. Col. Mark Leahey '86 poses with a young boy who had been following Leahey and other Army soldiers one morning during a foot patrol in a Kurdish neighborhood of Kirkuk City. "The boy's name is Mahmood," Leahey writes in an e-mail to Bates Magazine.

December 18, 2009
11:28 am

Amid failure, we can grow closer to what inspires us.

December 18, 2009
9:27 am

Alexis Mutimukunda and Sara Bravmann '12 talk about their experiences learning from one another.

December 17, 2009
2:15 pm

But for enthusiastic and committed twenty- and thirty-somethings, New Orleans is an alluring story of opportunity, a once-in-a-lifetime chance to plunge into the trenches of what may be the world's largest urban renewal project.