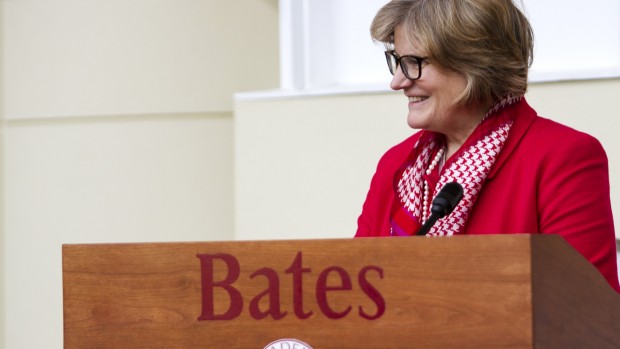 "We have ambitious goals for Bates, and I am inspired by this outpouring of support from the college community," said President Clayton Spencer.
Published on
Description

---

November 11, 2008
12:00 pm

The Downtown Education Collaborative (DEC) officially opens its doors with a photographic exhibition about Lewiston from 4 to 6 p.m. on Tuesday, Nov. 18, at its 219 Lisbon St. storefront center.

November 1, 2008
3:53 pm

Louisa Demmitt '09 and younger brother Daniel of Columbia, Md., saw a lot of each other during the fall, even though he's not a Bates student. After graduating from high school, Daniel cobbled together a gap year that began in Maine at the Androscoggin Apple Co., a family-owned organic operation in Greene. He plans to continue his farm work in the South over the winter.

November 1, 2008
12:00 pm

Over the pre-meal din and at the top of their lungs, the staff cries, "Dinner!" All becomes quiet, and the first course of the evening meal at Greenleaf hut, 4,200 feet above sea level in the White Mountains of New Hampshire, is served.

November 1, 2008
11:46 am

Shortly after a press release announced Lynne Lewis' scholarly article on dam removal, the Bates environmental economist learned where her academic research really hits home.

November 1, 2008
11:39 am

The Bates Contemplates Food initiative is a call for an informed examination of food choices. For many of us, these choices involve what foods to buy. A select few, though — such as the alumni on enumerated below — are choosing what foods to produce for the people who buy. And while every food decision is a life decision, the choices made by people whose livings depend on producing food take place on planes different from the ones we occupy.

November 1, 2008
9:20 am

Food-oriented community projects provide more than physical nourishment.

November 1, 2008
8:58 am

Anna Skarstad '11 wants to be a farmer, but she's not willing to hoe that row until she understands why.

October 22, 2008
12:00 pm

Among the attractions at the forthcoming Bates' Homecoming Weekend is "Faces of Bates Across the Decades," a panel discussion exploring and celebrating experiences of the college's international alumni and alumni of color.

October 16, 2008
10:51 am

In March of 2009, Tyler Fish '96 and John Huston will attempt to become the first Americans to ski unsupported to the North Pole.

October 6, 2008
12:00 pm

Philosopher, author and producer Sam Keen gives a presentation titled The Lasting Appeal of War and the Quest for a Moral and Erotic Alternative at 7 p.m. Thursday, Oct. 9, in Chase Hall Lounge, 56 Campus Ave.