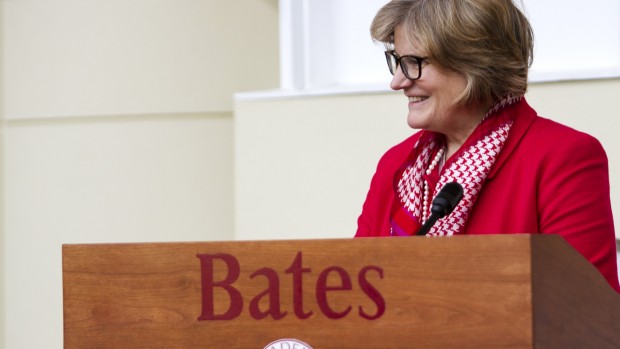 "We have ambitious goals for Bates, and I am inspired by this outpouring of support from the college community," said President Clayton Spencer.
Published on
Description

---

August 28, 2013
10:35 am

Megan Lubetkin '16 raised not only produce and livestock, but awareness of programs such as food shares for families in need and cooking classes for at-risk and refugee youth.

June 25, 2013
5:00 pm

While acts of philanthropy got most private colleges going, the tradition of the alumni fund is a relative newcomer.

June 10, 2013
9:57 am

Established in 2012, the Stangle Award recognizes leaders who help Bates people become better professionals in their careers and volunteer work.

June 10, 2013
9:43 am

The Distinguished Young Alumni Award is presented to a recent graduate for exceptional volunteer service to Bates and distinction in his or her career.

May 31, 2013
1:18 pm

Bates' popular "Clean Sweep" sale returns for the 13th year on Saturday, June 15.

May 22, 2013
3:32 pm

Under the headline "Negative Emotions are Key to Well-Being," Scientific American writer Tori Rodriguez cites research by Jonathan Adler '00…

May 9, 2013
6:00 pm

Kinney was a model corporate leader, a former CEO of General Mills who "always ready with a helping hand."

April 26, 2013
11:01 am

Maine Campus Compact will honor two members of the Bates community for their commitment to public involvement.

February 25, 2013
9:32 am

Drew Gallagher '11 believes all his students "have the ability to rise."

January 22, 2013
5:00 pm

Getting 46 million Americans out of poverty will require wholesale changes in how we talk about, think about and take action around poverty, said keynote speaker Anthea Butler.