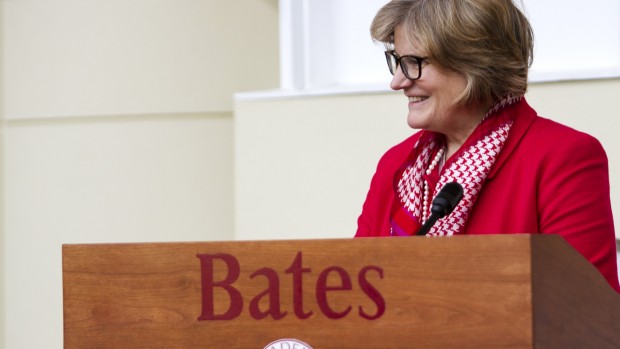 "We have ambitious goals for Bates, and I am inspired by this outpouring of support from the college community," said President Clayton Spencer.
Published on
Description

---

June 12, 2004
11:37 am

Weston L. Bonney '50, a distinguished banker, longtime college Trustee and a volunteer who has worked tirelessly in Maine and abroad to advance education, arts and commerce, received the Benjamin Elijah Mays Medal, the College's highest alumni award, at the 136th Reunion Alumni Awards Ceremony on June 12.

May 4, 2004
11:05 am

On May 1, a hot and sunny Saturday, a bunch of Batesies and other volunteers gathered for National Rebuilding Day, an annual community undertaking to rehabilitate housing for the disadvantaged.

April 29, 2004
3:42 pm

In an effort to raise awareness about the escalating problem of homelessness faced in the Lewiston-Auburn community, the Bates College Hunger and Homelessness Committee and the Coalition of Many and One will co-sponsor three events May 3-8, beginning with a panel discussion titled "Breaking Stereotypes: Homelessness in Perspective," at 7 p.m. Monday, May 3, Skelton Lounge, Chase Hall, 56 Campus Avenue. The public is invited to attend at no charge.

April 27, 2004
3:23 pm

A junior and a senior at Bates College were among 12 students at Maine institutions of higher education honored by the Maine Campus Compact for outstanding contributions in community service and service-learning.

August 8, 2003
10:46 am

Scion of a farming family in Sandwich, N.H., Booty has put her agricultural experience to work for Lots to Gardens, a Lewiston-based nonprofit founded in 1998 by another Bates student, Kirsten Walter. Booty — who is as passionate about civic involvement as she is about raising food — is the youth coordinator for the program, which uses gardening projects to strengthen community and support local young people.

January 30, 2003
3:38 pm

Junior Lori E. Jessup of Hatboro, Pa., has received a national award for working with disabled Maine skiers as part of the third annual Glamour magazine-sponsored "Best of You" contest, honoring women for "their personal best quality to make a difference in the world."

November 26, 2002
4:05 pm

The students, participants in the "World Agriculture" course taught by Peter Rogers, will present their findings from research into the operations of Nezinscott Farm, Turner; Avalon Farm, North Yarmouth; and Bell Farms, Auburn

November 13, 2002
2:42 pm

Ben Ayers, a 1999 Bates College graduate and founder of an organization that supports expeditionary porters in Nepal, brings a presentation about Porters' Progress to Bates at 8:30 p.m. Wednesday, Nov. 20 in the Benjamin Mays center, 95 Russell St. Ayers' presentation is open to the public at no charge.

November 5, 2002
4:05 pm

Rosemary Haughton and Nancy Schwoyer will describe the creation of Wellspring House, a shelter, center for social justice and land-trust enterprise a lecture titled "Change and Exchange

September 5, 2002
4:24 pm

On Sept. 4, former U.S. Surgeon General M. Joycelyn Elders opened the 148th academic year at Bates College with a challenge to the Class of 2006. In her second visit to Bates this year, Elders told a convocation gathering of about 1,000 students, staff and faculty that the students now starting here must summon the courage and the will to become transformational leaders for a new century fraught with pressing difficulties.