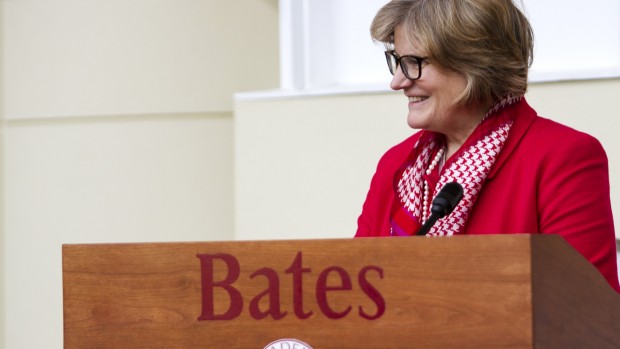 "We have ambitious goals for Bates, and I am inspired by this outpouring of support from the college community," said President Clayton Spencer.
Published on
Description

---

June 16, 2011
2:35 pm

Citation for Papaioanou Distinguished Service Award winner Gretchen Shorter Davis '61, delivered by Alumni Association president William Sweat '79: Gretchen…

June 14, 2011
1:56 pm

With Reunion 2011 now in the books, here's a tour of the weekend, in words, by Bates Magazine editor Jay…

May 20, 2011
10:14 am

At its May 14 meeting, the Bates College Board of Trustees voted to promote three faculty members from associate professor to full professor, and one lecturer to senior lecturer. The promotions take effect in August, at the start of the college's academic year. The faculty members are Francesco Duina, sociology (promoted to professor), Baltasar Fra-Molinero, romance languages and literatures (professor), Kirk Read, romance languages and literatures (professor) and Katalin Vecsey, theater and rhetoric (senior lecturer).

May 20, 2011
10:12 am

Promoted to full professor in May 2011, Francesco Duina is a sociologist whose research interests include economic sociology, international political economy, historical institutionalism, globalization, comparative regional integration and the sociology of culture. He serves as chair of the sociology department at Bates and has been a visiting professor at Copenhagen Business School in Denmark. At Bates he has taught economic sociology, comparative sociology, sociological theory, globalization, European integration and the sociology of competition.

May 20, 2011
10:10 am

Promoted to full professor in May 2011, Baltasar Fra-Molinero is a professor of Spanish whose research interests include the Spanish Golden Age and Spanish-American colonial literature. He focuses on the representation of blacks and their diaspora and is the author of the book La imagen de los negros en el teatro del Siglo de Oro ("The image of the black in the theater of the Golden Age"; Siglo XXI, 1995).

May 10, 2011
12:34 pm

Last October, Dave Cummings '89 landed on the front page of USA Today as a vivid example of how, as…

May 5, 2011
4:10 pm

The Harward Center for Community Partnerships at Bates College has honored 15 individuals and organizations for their achievements in community collaboration. Rooted in the academic purpose of Bates, the Harward Center is a focal point for teaching and learning that connects academic and community interests. Reflecting this mission, recipients of Harward Center awards connect Bates with the larger community through collaboration, research and service.

April 29, 2011
2:23 pm

The Maine Campus Compact has honored a Bates College senior and a member of the college's anthropology faculty for their commitment to public engagement. Visiting Instructor of Anthropology Heather Lindkvist is one of five college faculty in Maine to receive the Donald Harward Award for Faculty Service-Learning Excellence. Jessica Igoe, an economics major and education minor from Lexington, Mass., was one of four students at Maine colleges honored with the Heart and Soul Award, recognizing exemplary civic engagement.

April 28, 2011
10:44 am

Bates presents a community forum for local labor leaders and Latino immigrants in an event starting at 5:30 p.m. Wednesday,…

April 25, 2011
9:13 am

From the shores of the Androscoggin River to the slopes of Bradbury Mountain, dozens of Bates College students, staff and faculty will fan out through Lewiston-Auburn and beyond on Saturday, April 30, to give the environment a helping hand.