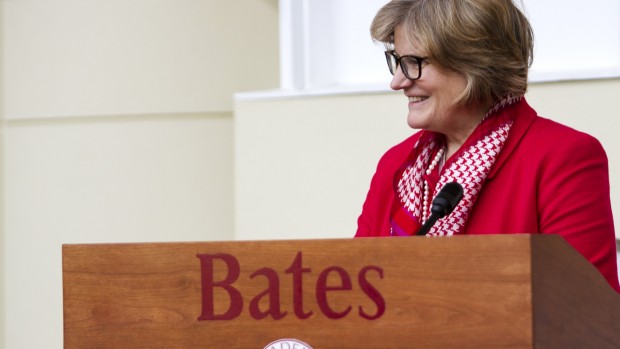 "We have ambitious goals for Bates, and I am inspired by this outpouring of support from the college community," said President Clayton Spencer.
Published on
Description

---

April 25, 2011
9:13 am

From the shores of the Androscoggin River to the slopes of Bradbury Mountain, dozens of Bates College students, staff and faculty will fan out through Lewiston-Auburn and beyond on Saturday, April 30, to give the environment a helping hand.

April 8, 2011
4:33 pm

During a community dinner on the eve of her departure from a remote Peruvian community, Hannah Porst '11 asked residents of this mountain village how she could thank them for their hospitality. What we really need, they told her, is a school. Now Porst has received a $10,000 Projects for Peace grant — covering a third of the cost of her initiative and making it possible for the school to be built this summer.

April 5, 2011
10:10 am

The Portland Press Herald profiles Sawin Millett '59, the commissioner of the Maine Department of Administrative and Financial Services. Reporter…

March 16, 2011
9:57 am

Hiroya Miura, conductor of the Bates College Orchestra and a native of Japan, has announced that the orchestra's March 19…

March 7, 2011
3:08 pm

The mourners who gathered in the Chapel today to remember the Rev. Professor Peter J. Gomes '65 stayed silent when…

March 1, 2011
3:00 pm

The Rev. Peter J. Gomes '65, D.D. '96 died Feb. 28, 2011, at Massachusetts General Hospital of complications from a stroke he suffered in December. He was 68 years old.

December 20, 2010
5:13 pm

• Click thumbnails above to view slide show Text and photographs by Matt Baker-White '13 Last spring, as I helped…

October 28, 2010
11:18 pm

Featuring four of the five candidates for the Blaine House — Democrat Elizabeth Mitchell and independents Eliot Cutler, Shawn Moody and Scott — the MPBN debate held in the Olin Arts Center Concert Hall capped a day at Bates largely centered around the event.

October 27, 2010
3:30 pm

Chomba Kaluba '10 gives the presentation Literacy and Microfinance for Sustainable Development and Peace, explaining his work with a Zambian nonprofit organization that he founded and directs, in a Homecoming Weekend presentation at 7:30 p.m. Friday, Oct. 29, in the Keck Classroom (G52), Pettengill Hall, 4 Andrews Road (Alumni Walk).

October 7, 2010
4:10 pm

Last spring, Bates, Colby and Bowdoin colleges channeled their long-standing rivalry for altruistic purposes. The three schools competed to collect the most books to donate to the Polytechnic University of Kabul, in Afghanistan. A Bates student, Kabul native Mustafa Basij-Rasikh '12, launched the project in an effort to restock the university's library, left critically short of English literature and textbooks. The book drive collected more than 2,000 books in a variety of disciplines. Bates raised the most books.