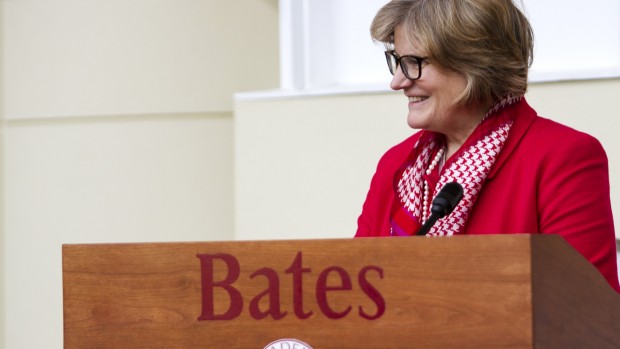 "We have ambitious goals for Bates, and I am inspired by this outpouring of support from the college community," said President Clayton Spencer.
Published on
Description

---

May 13, 2014
2:46 pm

A Bates senior from Seattle and the college Department of Athletics were each recognized for outstanding work in public service and civic engagement by Maine Campus Compact.

May 7, 2014
10:00 pm

Bates plays its first-round game today at 3 p.m. vs. Wesleyan University on the campus of Babson College in Babson Park, Mass.

March 20, 2014
12:49 pm

Snow falling through the lights of Garcelon Field and onto the men's lacrosse game created these enchanting nighttime scenes.

February 14, 2014
12:23 pm

Why watch a tape delay of some other event when you can watch Bates vs. Bowdoin and Colby live?

January 29, 2014
2:38 pm

With her selection, Bates has now been represented in five straight Olympic Games.

January 16, 2014
12:24 pm

"I love being out here with the boys," says Sam Maliska '15, a 6-3 righthanded pitcher from Palo Alto, Calif.

December 18, 2013
12:00 pm

Their paths are, quite literally, polar opposites.

November 7, 2013
3:53 pm

Tim Berg '14 is back home in Florida this weekend competing in a tournament fundraiser hosted by Dick Vitale.

November 1, 2013
12:00 pm

Jane Finn-Foley '04 wins the contest.

October 17, 2013
12:00 pm

Hillary Throckmorton '15 marshals community participation in the CBB Dempsey Challenge to secure a Bates victory.