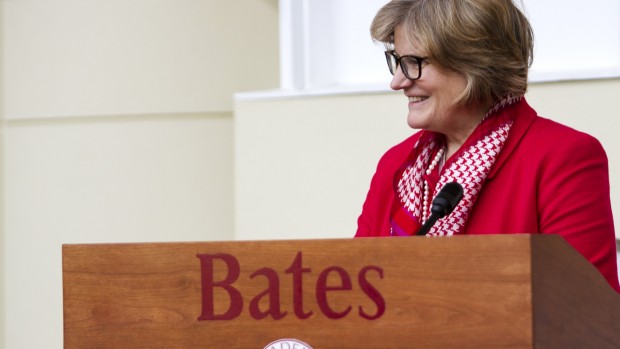 "We have ambitious goals for Bates, and I am inspired by this outpouring of support from the college community," said President Clayton Spencer.
Published on
Description

---

May 1, 2006
12:00 am

The Bates College men's tennis team was selected to participate in the NCAA Division III Men's Tennis Championships for the seventh straight year on Monday, the longest such streak of any athletic program at Bates.

April 27, 2006
12:00 am

Bates College senior Keelin Godsey again proved to be one of the top throwers in the NCAA at any division Thursday at the Penn Relays, finishing second in the hammer throw amongst solely Division I competition.

March 3, 2006
2:37 pm

Shannon Scales hit back-to-back three-pointers in the final 34 seconds of overtime to lift the Bridgewater College women's basketball team over Bates College 71-69 in the opening round of the NCAA Division III tournament Friday.

March 3, 2006
12:00 am

The Bates College women's basketball team's season seemed nearly assured of extending into the second round of the NCAA tournament, but then the Bobcats' March turned mad. Bridgewater (Va.) College scored nine straight points on a trio of three-pointers at the end of overtime to tip Bates 71-69, ending its season at 19-9.

March 1, 2006
3:04 pm

Bates College head coach Joe Reilly was named Coach of the Year and juniors Zak Ray and Rob Stockwell each made the All-NESCAC Second Team for the second year in a row as postseason honors were announced for men's basketball Wednesday by the New England Small College Athletic Conference.

March 1, 2006
2:45 pm

Bates College junior Meg Coffin was recognized as the premier women's basketball player in the New England Small College Athletic Conference on Wednesday, while sophomore teammates Sarah Barton and Matia Kostakis also earned league honors.

March 1, 2006
12:00 am

The success of Bates College's men's and women's basketball teams this season translated into awards announced by the New England Small College Athletic Conference on Wednesday.

February 16, 2006
12:00 am

In his first Olympic race, on Feb. 17, Freeman finished 53rd out of 97 competitors in the 15 km. classical, at Pragelato, Italy. Since his appointment to the team in January, U.S. Olympic cross country skier Freeman has e-mailed a few updates to family and friends.

January 18, 2006
3:13 pm

Kris Freeman becomes the second Bates alum to earn a place on a Winter Olympics team, the first being Nordic skier Nancy Ingersoll Fiddler '78, who competed at the 1988 and 1992 games.

January 4, 2006
1:56 pm

Bates College Director of Athletics Suzanne Coffey announces that the college will sponsor its first-ever audio webcasts of athletic contests, beginning with the men's basketball team's home game against Colby College on Saturday, Jan. 7.