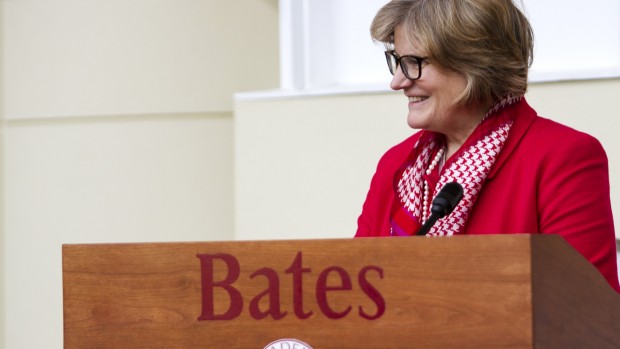 "We have ambitious goals for Bates, and I am inspired by this outpouring of support from the college community," said President Clayton Spencer.
Published on
Description

---

December 17, 1999
12:00 am

Bates College officials have announced that registration is open for the Bates Skating School, which begins Jan. 15 and still has openings in the youth power skating program for children in grades 1-8 and in the beginner adult class. The pre-school and youth figure skating programs are already full.

September 8, 1999
12:00 am

Legendary Bates College track and cross country coach Walter Slovenski, 79, died Sept. 8 at Central Maine Medical Center, surrounded by his family, after a long battle with cancer. A memorial service will be held at the Bates Chapel on Sept. 24 at 4 p.m. followed by a reception at the Benjamin E. Mays Center on campus.

June 10, 1998
12:37 pm

There are openings still available in both sessions of the Bates College basketball camp, led by Jim Murphy and Joe Reilly, Bates women's and men's basketball coaches respectively.

February 9, 1998
2:09 pm

Both sessions of the Bates College Junior Sports Camp, a half-day program for youngsters 5 to 7 years of age, have been filled. The sessions run June 29-July 10 and July 13-24.

December 19, 1997
12:19 pm

At our annual winter meeting on December 16, we, the eleven college presidents, reaffirmed our strong commitment to the Conference and to its principles of academic and athletic balance. We considered the appropriateness of post-season play and affirmed it. Continued team and individual competition in NCAA championships is still under active consideration.

November 6, 1997
4:15 pm

Members of the Bates College community, including student athletes, faculty and alumni, will debate the resolution: "This house supports continued NESCAC participation in NCAA postseason play" at at 8 p.m. Monday in the Benjamin Mays Center. The public is invited to attend free of charge.

September 11, 1997
3:10 pm

Bates College will celebrate "Parents and Families Weekend" Sept. 26 – Sept. 28 with many on-campus events for students and their parents, alumni and Bates employees.

September 5, 1997
2:23 pm

Bates College will celebrate "Back to Bates" homecoming Sept. 19 – Sunday, Sept. 21 with many on-campus events for students, alumni and Bates employees.

September 23, 1996
10:17 am

Senior linebacker Mike Holte of Bates College is the defensive football player of the week in the New England Small College Athletic Conference (NESCAC).

June 14, 1996
11:18 am

Olympic gold medalists Bob Richards and Dick Fosbury will be among the coaches at this year's Bates College Track and Field Camp for boys and girls age 13 to 17.