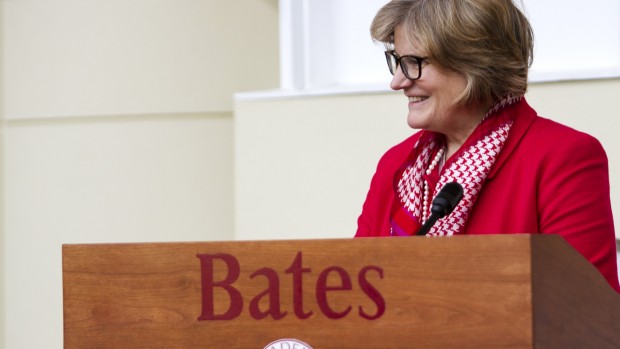 "We have ambitious goals for Bates, and I am inspired by this outpouring of support from the college community," said President Clayton Spencer.
Published on
Description

---

February 10, 2010
2:46 pm

Wilson Louis, mayor of Cité Soleil, a district of the Haitian capital Port-au-Prince, speaks on "Cité Soleil and the Haitian Nation: Moving Forward" in the aftermath of the Haitian earthquake at 7 p.m. Thursday, Feb. 11, in the Olin Arts Center Concert Hall at Bates College, 75 Russell St.

January 11, 2010
9:26 am

Sunday, Jan. 17 7 p.m. Worship service: A sermon by Barbara D. Savage, Geraldine R. Segal Professor of American Social…

November 20, 2009
3:58 pm

Jessica Harris, a professor at Queens College and an expert in African American foodways, speaks at 4:30 p.m. Friday, Dec. 4, in the Edmund S. Muskie Archives at Bates College, 70 Campus Ave. Titled "Cane Confluences: Sugar and Slaves in the Caribbean and Louisiana," the lecture is sponsored by the Multicultural Center and is open to the public at no cost. For more information, please call 207-786-8376.

November 20, 2009
3:43 pm

Civil rights activist and noted mathematician Robert Moses offers two lectures at Bates College on Wednesday, Dec. 2. Sponsored by the mathematics department in conjunction for the second year with the Multicultural Center, and with other offices at Bates, both lectures are open to the public at no cost. However, an RSVP is required because of limited seating. Please RSVP to Heidi Howard at 207-753-6993 or hhoward@bates.edu by Monday, Nov. 30.

November 12, 2009
4:47 pm

Jared Golden '11, whose Marine and civilian experiences are the subject of a Sun Journal profile, and Mustafa Basij-Rasikh '12…

October 30, 2009
12:33 pm

Carrie Billy, president and chief executive officer of the American Indian Higher Education Consortium, discusses her work at 7 p.m. Monday, Nov. 2, in the Edmund S. Muskie Archives, Bates College, 70 Campus Ave.

Sponsored by the Office of Multicultural Affairs, this event is open to the public at no cost. For more information, please call 207-786-8376. A dinner with Billy precedes the event at 5:15 p.m.; seating is limited and by RSVP only. For more information, contact ttaylor@bates.edu.

October 6, 2009
10:27 am

Emanuel Xavier, an award-winning Latino poet, spoken word artist, author and activist, speaks at Bates College in observance of National Coming Out Day at 4:30 p.m., Thursday, Oct. 8, in Chase Hall Lounge, 56 Campus Ave.

September 23, 2009
12:57 pm

Bates College alumni from diverse backgrounds involved in the arts talk about their work in four events taking place Sept. 24-26, as part of the college's Alumni Homecoming Weekend.

September 11, 2009
10:57 am

A professor of Spanish, a poet and an authority on Mexican citizens of African descent, Marco Polo Hernández Cuevas offers a talk titled "Afro-Mexico 1519-" at Bates College at 4:30 p.m. Thursday, Sept. 17, in the Benjamin Mays Center, 95 Russell St.

September 10, 2009
4:08 pm

"Getting Home" from Chinese director Zhang Yang opens the Global Lens Series of films from around the world at Bates College with 8 p.m. showings on Friday, Sept. 11, and Sunday, Sept. 13, in Room 105 of the Olin Arts Center, 75 Russell St.