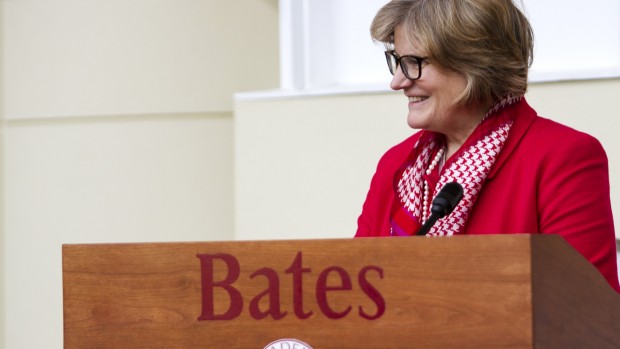 "We have ambitious goals for Bates, and I am inspired by this outpouring of support from the college community," said President Clayton Spencer.
Published on
Description

---

August 21, 2013
2:10 pm

Tthe 2013 Global Lens film series premieres at Bates with "About 111 Girls" on Sept. 9

August 12, 2013
1:34 pm

Williams will oversee the Office of Equity and Diversity and the Office of Intercultural Education and serve as a member of the president's senior staff.

August 9, 2013
12:16 pm

Bates is forever, but the details change from year to year. This newsletter will start you out on the new…

August 5, 2013
10:00 am

During its last week, the excitement of the Bates Dance Festival builds to a crescendo.

August 1, 2013
4:31 pm

Two rising seniors share insights into life in a summer research lab as they study neurological processes in snail brains.

August 1, 2013
12:58 pm

The Office of Intercultural Education focuses on the mission of fostering dialogue and building bridges across difference. The OIE staff…

July 31, 2013
4:41 pm

Bates Dining recently earned a third star for its sustainability rating from the Green Restaurant Association.

July 30, 2013
4:28 pm

The Connecticut Post describes a day in the life of Emilie Geissinger '14, a summer intern at the Marine Aquarium…

July 29, 2013
2:47 pm

Profiled in his hometown Atlanta newspaper, NCAA shot put champion David Pless '13 is described as a "consummate gift" by…

July 29, 2013
10:36 am

Bridgman | Packer Dance bring "Voyeur," their newest work, to the Bates Dance Festival Aug. 2-3.