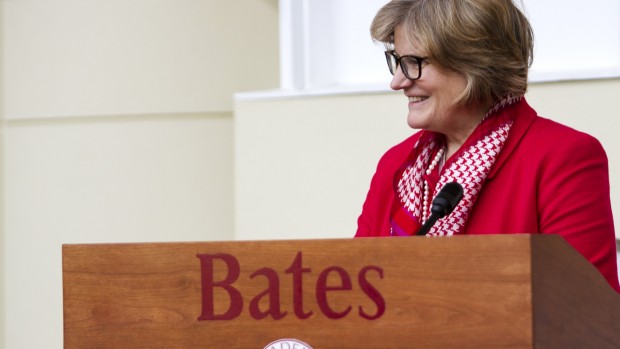 "We have ambitious goals for Bates, and I am inspired by this outpouring of support from the college community," said President Clayton Spencer.
Published on
Description

---

July 21, 2014
12:37 pm

David Dorfman Dance examines the 1990s underground music scene in "Come, and Back Again" in Bates Dance Festival performances on July 25-26.

July 14, 2014
3:33 pm

The Bates Dance Festival presents the acclaimed Camille A. Brown & Dancers with a work exploring images of
African American performers.

July 2, 2014
3:05 pm

Prometheus Dance, Boston's top dance company, opens the 2014 Bates Dance Festival with "Heart of the Matter" on July 11 and 12.

June 16, 2014
3:42 pm

Concerts on the Quad 2014 presents music ranging from fingerstyle guitar to folk-rock.

June 16, 2014
3:07 pm

Country guitarist-singer Jonathan Brown opens Bates College's Concerts on the Quad series on July 17.

June 16, 2014
3:00 pm

The soulfully eclectic Holmes Brothers perform a Bates Concert on the Quad on July 31.

June 16, 2014
1:50 pm

One-of-a-kind songwriter Lady Lamb the Beekeeper performs a Concert on the Quad on Aug. 14.

June 4, 2014
8:43 am

Convergence: Jazz, Films and the Visual Arts, an exploration of African American culture and the dynamic interactions among the arts,…

June 4, 2014
8:36 am

Featuring such renowned artists as Marsden Hartley and John Marin, the exhibition Encountering Maine opens at the Bates Museum of Art…

May 14, 2014
10:53 am

Beautiful spring weather and delicious food draw students downtown on May 7.