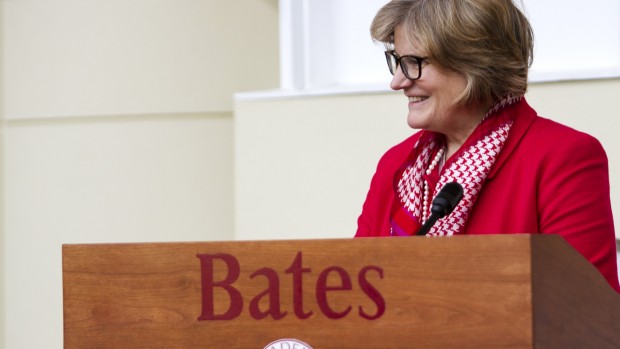 "We have ambitious goals for Bates, and I am inspired by this outpouring of support from the college community," said President Clayton Spencer.
Published on
Description

---

July 25, 2014
2:31 pm

Coming up at the Bates Dance Festival are the popular Musicians' Concert and a pair of performances exploring changing times in South Africa and China.

July 21, 2014
12:37 pm

David Dorfman Dance examines the 1990s underground music scene in "Come, and Back Again" in Bates Dance Festival performances on July 25-26.

July 14, 2014
3:33 pm

The Bates Dance Festival presents the acclaimed Camille A. Brown & Dancers with a work exploring images of
African American performers.

July 2, 2014
3:05 pm

Prometheus Dance, Boston's top dance company, opens the 2014 Bates Dance Festival with "Heart of the Matter" on July 11 and 12.

August 5, 2013
10:00 am

During its last week, the excitement of the Bates Dance Festival builds to a crescendo.

July 29, 2013
10:36 am

Bridgman | Packer Dance bring "Voyeur," their newest work, to the Bates Dance Festival Aug. 2-3.

July 22, 2013
10:00 am

The Bebe Miller Company performs its new "A History" July 26-27.

July 15, 2013
3:00 pm

In their seventh appearance at the Bates Dance Festival, Doug Varone and Dancers perform stunning new works and their signature piece, 'Rise.'

July 10, 2013
1:10 pm

Nejla Yatkin / NY2Dance opens the Bates Dance Festival performance series with the Maine premiere of "Oasis" on July 12.

July 2, 2013
9:30 am

The Bates Dance Festival, a renowned summer series of contemporary dance, announces its 2013 season of public events.