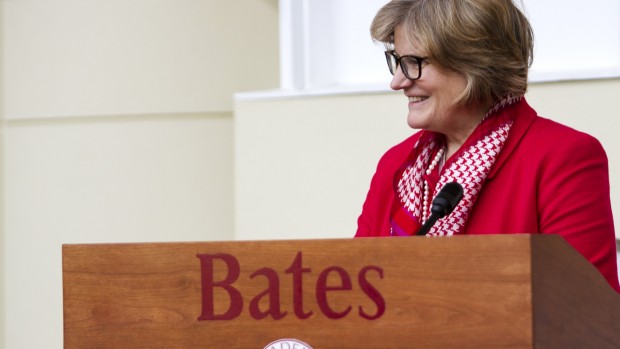 "We have ambitious goals for Bates, and I am inspired by this outpouring of support from the college community," said President Clayton Spencer.
Published on
Description

---

August 8, 2012
10:11 am

The annual "Festival Finale" and three other performances conclude the 30th anniversary season of the Bates Dance Festival.

July 30, 2012
1:00 pm

Keigwin + Company, Musicians' Concert, 30th-anniversary gala highlight a big week for the Bates Dance Festival.

July 24, 2012
4:00 pm

Kate Weare and her company present their striking new "Garden," which explores the depths of human relationships, July 27-28 at the Bates Dance Festival.

July 16, 2012
3:08 pm

Kyle Abraham, labeled one of Dance Magazine's 25 choreographers to watch in 2009, brings his company Abraham.in.Motion to the Bates Dance Festival.

July 5, 2012
9:16 am

Rennie Harris, proclaimed "hip hop's grandmaster" by Dance Magazine, returns to Bates with his company, Puremovement, to launch the Bates Dance Festival and present some greatest hits.

April 24, 2012
1:22 pm

Bates College and the Bates Dance Festival present this widely acclaimed multimedia production "red, black & GREEN: a blues" April 27-28.

January 17, 2012
2:43 pm

For a performance Jan. 13, performer, educator, activist and slam poetry champion Marc Bamuthi Joseph took the Olin Concert Hall stage—only to leave it again.

November 28, 2011
2:33 pm

Experience Charlie Hunter, a great jazz guitarist, and Tamango, a leading cross-cultural tap dancer.

August 5, 2011
7:58 am

Creations by festival students and professional choreographers from around the world are showcased in the closing days of the 2011 Bates Dance Festival.

July 12, 2011
9:33 am

The 2011 Midsummer Lakeside Concert series continues with a performance by musicians from the Bates Dance Festival at 6 p.m. Thursday, Aug. 4, in the Florence Keigwin Amphitheater by the college's scenic Lake Andrews. The series concludes with a performance by singer-songwriter and guitarist Jim Gallant at 6 p.m. Thursday, Aug. 11.