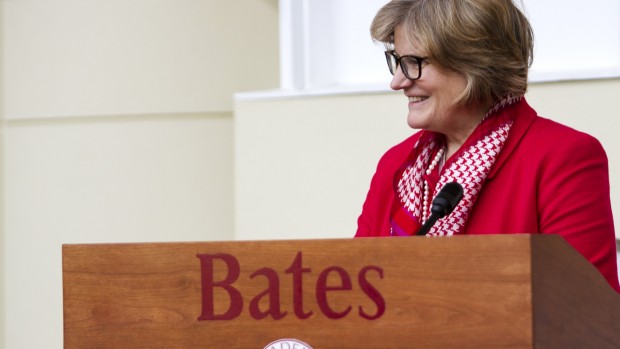 "We have ambitious goals for Bates, and I am inspired by this outpouring of support from the college community," said President Clayton Spencer.
Published on
Description

---

February 26, 2013
4:06 pm

Bates presents the young Israeli and Palestinian musicians of Heartbeat, a band seeking to use music to promote peace in the Middle East, on Feb. 27

February 22, 2013
8:41 am

The annual F.A.B. Winter Dance Showcase takes place Saturday, March 2, at the Franco-American Heritage Center in Lewiston.

February 21, 2013
4:21 pm

The first weekend of March will be a rich one at Bates College for music lovers.

January 29, 2013
10:46 am

In its third year in 2013, the Arts Crawl at Bates has become a signature event, a campus tour that showcases student expressive work across disciplines.

January 23, 2013
3:03 pm

Violinist Dean Stein and pianist Chiharu Naruse present the completeBeethoven sonatas for violin and piano in the coming weeks.

January 9, 2013
3:42 pm

The Language Arts Live series presents poet Brian Brodeur on Jan. 17.

December 19, 2012
11:19 am

A Maine artist examining humanity's foibles, a German printmaker of the early 20th century and a contemporary Dutch textile artist known for her color sense are represented in winter 2013 exhibitions at the Bates College Museum of Art.

December 6, 2012
9:01 am

With a couple of weeks still left for the Museum of Art exhibition "Starstruck," Maine Sunday Telegram art critic Daniel Kany urged readers not to miss it.

December 5, 2012
4:42 pm

Three musical ensembles featuring Bates students will perform Dec. 5, 6 and 8 in the Olin Concert Hall.

November 16, 2012
1:54 pm

"F To eMbody: A Reconstruction of Gender," a gender-deviant, multi-media, spoken word, homo-hop extravaganza takes place Dec. 3.