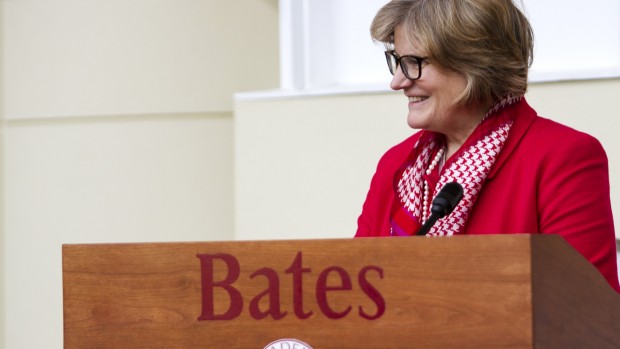 "We have ambitious goals for Bates, and I am inspired by this outpouring of support from the college community," said President Clayton Spencer.
Published on
Description

---

May 14, 2014
10:53 am

Beautiful spring weather and delicious food draw students downtown on May 7.

May 12, 2014
4:39 pm

Bates College presents Lynn Siefert's 1987 play "Little Egypt," a bittersweet comedy about romance's roller-coaster rides in a small Midwestern town, May 15-18.

May 5, 2014
4:07 pm

Known for its dedication to contemporary music, the Momenta Quartet returns to Bates for a concert on May 9.

May 5, 2014
4:06 pm

Faculty pianist James Parakilas, Momenta Quartet perform as music majors present thesis projects on May 10.

May 1, 2014
8:36 am

A queer, transgender Asian American slam poet from Hawaii, Kit Yan performs on May 8.

May 1, 2014
8:25 am

The Whiffenpoofs of Yale University, the country's oldest collegiate a cappella group, perform at Bates College at 8 p.m. Saturday,…

April 30, 2014
4:33 pm

Grammy award-nominated pianist Reiko Uchida and Thomas Meglioranza, called "one of America's finest young baritones," by Newsday, perform at Bates on May 2.

April 30, 2014
4:18 pm

In an exploration of the Latin American presence in Maine, Latino/a members of the Bates community offer a performance on May 2.

April 18, 2014
10:20 am

The prize-winning Calidore String Quartet performs music by Beethoven, Mendelssohn and Osvaldo Golijov at Bates on April 25.

March 31, 2014
1:44 pm

The 2014 "Senior Thesis Exhibition" and a display of posters from an influential period in Polish graphics arts open on April 4 at the Bates College Museum of Art.