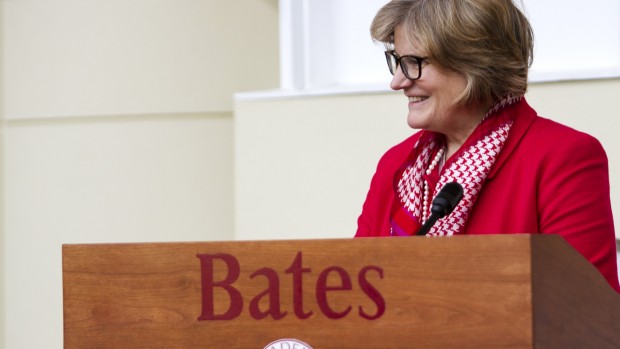 "We have ambitious goals for Bates, and I am inspired by this outpouring of support from the college community," said President Clayton Spencer.
Published on
Description

---

January 31, 2014
3:53 pm

Leyla McCalla, a singer-songwriter who has been likened to Billie Holiday, performs on Feb. 9.

January 31, 2014
3:34 pm

Pianist Frank Glazer, artist in residence at Bates, gives a special 99th-birthday concert featuring music of Bach, Mozart, Beethoven and…

January 31, 2014
3:23 pm

Soprano Karyn Levitt and pianist Eric Ostling perform songs by Hanns Eisler in translations by Eric Bentley on Feb. 7.

January 28, 2014
1:19 pm

Winners of a 2011 Latin Grammy Award, the Brazilian Guitar Quartet performs at Bates on Feb. 1.

January 28, 2014
1:01 pm

Bates presents lectures on an important exhibition of collages and on the role of academics and social justice on Feb. 5.

January 23, 2014
3:50 pm

A schedule of events for the 2014 Arts Crawl.

January 21, 2014
2:54 pm

Bates presents Asia Night and the fourth annual Arts Crawl, a celebration of student creativity in the performing, literary and visual arts, the weekend of Jan. 24-25.

January 17, 2014
9:37 am

Playwright-actress Rohina Malik performs her critically acclaimed one-woman show "Unveiled," portraying five Muslim women living in a post 9/11 world, on Jan. 27.

January 14, 2014
8:51 am

The Language Arts Live series of literary readings resumes with poet Tyler Mills on Jan. 16.

January 6, 2014
1:30 pm

Opening on Jan. 23 are Bates College Museum of Art exhibitions exploring the field of collage and shamanist objects from northern Vietnam.