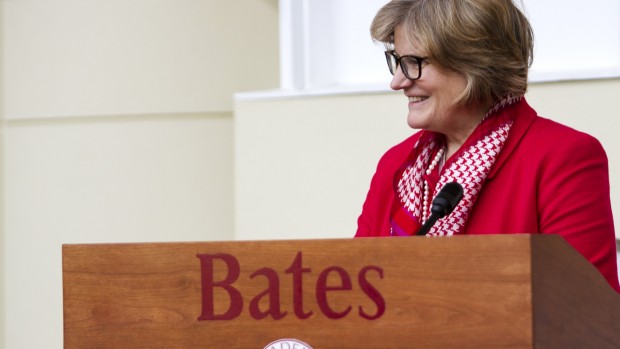 "We have ambitious goals for Bates, and I am inspired by this outpouring of support from the college community," said President Clayton Spencer.
Published on
Description

---

November 8, 2013
3:14 pm

Visiting Assistant Professor of Music Scott Ordway leads the Bates College Orchestra in the world premiere of his Symphony No. 3 on Nov. 9.

November 7, 2013
1:53 pm

Celebrating the depth and variety of African culture, Bates presents the third annual Inside Africa Fashion Show on Nov. 8

November 4, 2013
10:44 am

Three theater majors present one-act plays in November that they are directing as independent study projects.

October 16, 2013
3:34 pm

Bates theater presents "In the Next Room (or the vibrator play)" through Nov. 4.

October 8, 2013
2:01 pm

Celebrating the introduction of its Latin American studies program, Bates presents a festival of independent films set in Latin America Oct. 11-13.

September 27, 2013
1:55 pm

A piano trio drawn from Maine's three selective liberal arts colleges plays French chamber music on Oct. 6.

September 26, 2013
1:23 pm

Student performers show off the vitality of dance at Bates on Sept. 28-29.

September 25, 2013
3:31 pm

Faculty from Bates and Colby perform a piece by Philadelphia's Headlong Dance Theater on Sept. 29.

September 25, 2013
12:07 pm

Japanese printmaking is the focus of a current exhibition at the Museum of Art and of a lecture on Sept. 28.

September 13, 2013
9:06 am

John Farrell of Figures of Speech Theatre recites "Four Quartets," a suite of poems by T.S. Eliot, on Sept. 27. The DaPonte String Quartet follows Farrell with a Beethoven piece thought to have inspired Eliot.