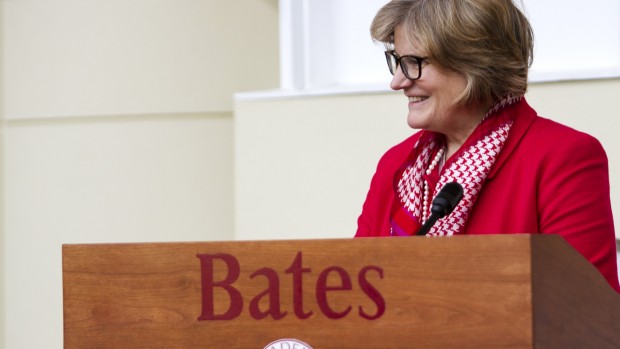 "We have ambitious goals for Bates, and I am inspired by this outpouring of support from the college community," said President Clayton Spencer.
Published on
Description

---

September 13, 2013
8:30 am

Joy Kills Sorrow, a Boston-based quintet known for their intelligent, wry lyricism and unique blend of styles, performs on Sept. 28.

September 9, 2013
2:33 pm

Images of Maine by famed 20th-century photographer Berenice Abbott and prints by Japanese artists known for pushing the boundaries of…

September 6, 2013
10:11 am

Vermont-born folksinger Sam Amidon performs in the Olin Arts Alive music series on Sept. 10.

September 3, 2013
12:40 pm

Jason Marsalis, the vibraphone-playing member of New Orleans' first family of jazz, and Vermont-born folksinger Sam Amidon launch the 2013-14 Olin Arts Alive series at Bates.

August 21, 2013
2:10 pm

Tthe 2013 Global Lens film series premieres at Bates with "About 111 Girls" on Sept. 9

August 5, 2013
10:00 am

During its last week, the excitement of the Bates Dance Festival builds to a crescendo.

July 29, 2013
10:36 am

Bridgman | Packer Dance bring "Voyeur," their newest work, to the Bates Dance Festival Aug. 2-3.

July 22, 2013
10:00 am

The Bebe Miller Company performs its new "A History" July 26-27.

July 19, 2013
1:42 pm

Blues in the night is no fun. But blues in the evening can be a very good time indeed, as proven by musician Corey Harris '91.

July 18, 2013
9:40 am

Enjoy three distinctly different approaches to the blues as Bates presents its new outdoor music series, Concerts on the Quad.