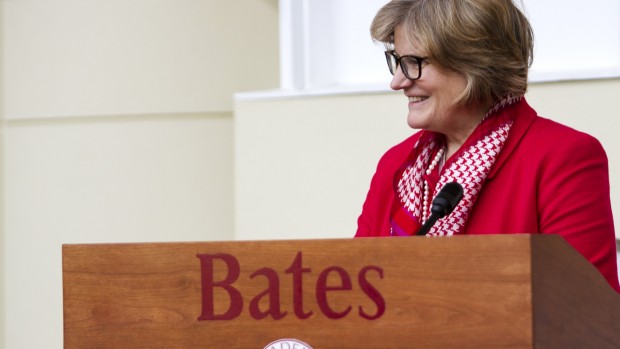 "We have ambitious goals for Bates, and I am inspired by this outpouring of support from the college community," said President Clayton Spencer.
Published on
Description

---

January 29, 2014
10:05 am

It's a Bates tradition suitable for any hardy Bobcat, including this year an alumnus from the event's founding era.

October 8, 2013
12:04 pm

Joining a preorientation AESOP trip this year, photographer Mike Bradley captures the leadership of Sophie Pellegrini '15 of Potomac, Md.,…

February 27, 2013
12:03 pm

Years ago, Bates students would climb Mount David to light massive bonfires to celebrate sports triumphs or to drive away the winter blahs.

January 11, 2013
3:00 pm

Student and alums team up to move the Bates Outing Club headquarters from Alumni Gym to Chase Hall.

August 23, 2012
3:00 pm

For Monica Rodriguez '12, AESOP in 2008 shaped her understanding of Bates and herself.

February 2, 2012
10:47 am

In a parade of patterned Spandex, competitors in the first Intercollegiate Winter Throwdown came brandishing team mascots, notably the University of Maine at Farmington's superb white-bearded gnome.

January 20, 2012
6:27 pm

Here are a few scenes from the 2012 edition of the annual Puddle Jump during Winter Carnival. Run by the…

September 7, 2011
5:42 pm

Video of a 2011 AESOP trip to Grafton Notch, produced by Taylor Blackburn '15 of Atherton, Calif.

September 6, 2011
3:04 pm

Bates' student-run Annual Entering Student Outdoor Program expeditions are plenty stimulating all by themselves, but this year an uninvited guest called Tropical Storm Irene upped the ante on the excitement.

August 29, 2011
12:41 pm

With the wind and rain from Tropical Storm Irene long gone from Maine and New Hampshire, the college's Annual Entering Student Outdoor Program trips will depart from campus as scheduled on Tuesday, Aug. 30.