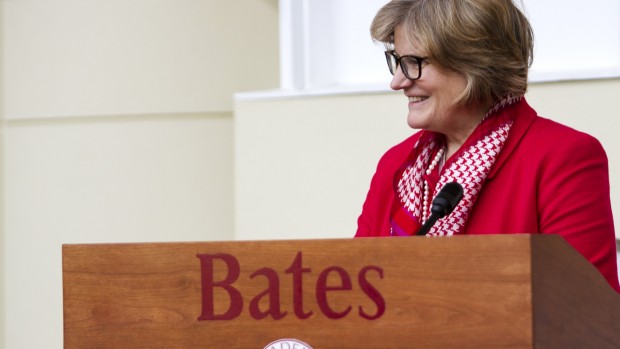 "We have ambitious goals for Bates, and I am inspired by this outpouring of support from the college community," said President Clayton Spencer.
Published on
Description

---

August 26, 2011
9:43 am

As the scheduled departure date nears for Bates' 2011 AESOP trips, we are closely following weather advisories regarding Hurricane Irene, and will change plans if necessary to assure the safety of all students involved. Given the predicted pace of the storm, we currently anticipate that the trips will be able to leave campus on Tuesday, Aug. 30, as scheduled.

May 20, 2011
11:33 am

Through Commencement, we'll offer brief videos of Bates seniors reflecting on their Bates experience. Here, Molly Newton '11 of Northampton,…

December 20, 2010
5:13 pm

• Click thumbnails above to view slide show Text and photographs by Matt Baker-White '13 Last spring, as I helped…

October 6, 2010
1:42 pm

• Click the thumbnails below to view the slide show: A widely published Associated Press story describes how Alexander "Zand"…

August 31, 2010
3:00 pm

Over the next four days, student photographer Matt Baker-White '13 of Williamstown, Mass., will follow Bates' newest students as they head out on the 2010 edition of Bates' Annual Entering Student Outdoor Program.

August 27, 2010
2:00 pm

With finals looming the next day, the Bates Outing Club clambake at Popham Beach on May 24, 1953, offered one…

April 21, 2010
1:59 pm

• Click the thumbnails below to view the slide show Ten reasons the Puddle Jump is the best college tradition…

April 21, 2010
9:58 am

A Bates vibe accompanies the Outing Club on its 90th birthday jaunt to the State House By H. Jay Burns…

February 2, 2010
3:37 pm

The Portland Press Herald, Lewiston Sun Journal and Maine Public Broadcasting Network's Maine Things Considered all sought out Tyler Fish…

January 26, 2010
5:00 pm

Founded to get students out of doors during the long Maine winter, the Bates Outing Club celebrates its 90th anniversary this year. Two events this week kicking off the organization's yearlong birthday celebration. The Maine Legislature honored the student organization with a Legislative Sentiment on Tuesday, Jan. 26, during a ceremony at the State House. Later in the week, Tyler Fish, a Bates alumnus and one of the first Americans to complete an unsupported cross-country ski expedition to the North Pole, visits the college to discuss this grueling journey at 7 p.m. Saturday, Jan. 30, in Chase Hall Lounge, 56 Campus Ave.