Archives for "Chase Hall Commitee"
Tuesday
September 16, 2003 11:50 am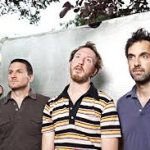 The tuneful, droll and Tufts-bred trio Guster performs in an all-ages concert at 8 p.m. Sunday, Sept. 28, in the Clifton Daggett Gray Athletic Building ("Gray Cage"), 130 Central Avenue.
Monday
January 13, 1997 3:20 pm
"Mardi Gras" has been selected as the theme for the 78th annual Bates College Winter Carnival, which includes a ceremonial torch lighting by Gov. Angus King at noon Friday, Jan. 17, on the front steps of the Statehouse in Augusta followed by a relay of the Winter Carnival torch to the Bates campus by student runners.
Tuesday
April 9, 1996 11:20 am
The show, which features God Street Wine, Boston-based Guster and the hip-hop band Fun Lovin' Criminals, begins at 7:30 p.m. in Clifton Daggett Gray Athletic Building. Ticket information is available through the Bates student activities office, 207-786-6305.