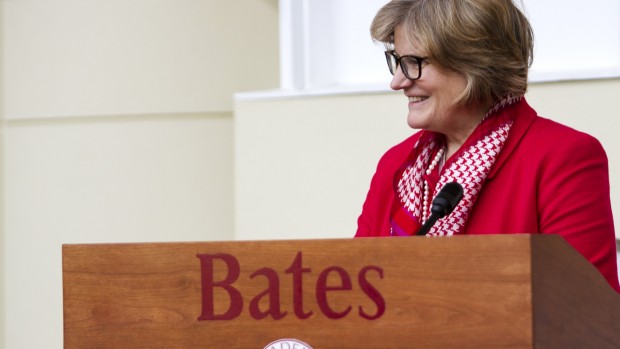 "We have ambitious goals for Bates, and I am inspired by this outpouring of support from the college community," said President Clayton Spencer.
Published on
Description

---

October 16, 2009
4:04 pm

Roy Heffernan, "chief operating optimist" for the apparel company Life is good, known for its optimistic slogan and subtle humility, speaks at 7 p.m. Thursday, Oct. 29, in Bates College's Chase Hall Lounge, 56 Campus Ave. Sponsored by the Bates Student Philanthropy Club, the event is open to the public at no cost. For more information, please call 207-786-6129.

October 7, 2009
2:50 pm

Bates College debaters started their season in style the weekend of Sept. 25-27 with a tournament win in Vermont and a strong showing at Boston University. Representing Bates' Brooks Quimby Debate Council, sophomores Colin Etnire and Ian Mahmud finished first out of 76 teams in a tourney at the University of Vermont on Sept. 27. (Debate teams comprise two people.) Beginning debaters acquitted themselves well that same weekend, as two Bates teams won three out of four rounds in a novice tournament at BU.

October 6, 2009
9:40 am

Matching Orange, a new high-energy folk band from the Boston area, makes its first performance at the monthly Bates College contradance at 8 p.m. Friday, Oct. 9, in Chase Hall Lounge, 56 Campus Ave.

October 6, 2009
9:11 am

Guitarist Glenn Jones of Cambridge, Mass., plays an acoustic concert at 7 p.m. Saturday, Oct. 10, in the Ronj, the student-run Bates College coffeehouse at 32 Frye St. Opening for Jones will be Micah Blue Smaldone of Portland. Admission is free.

July 29, 2009
12:39 pm

President for a Day, a tradition started three years ago by President Elaine Tuttle Hansen, reinforces the Bates goal of learning to see other perspectives

July 1, 2009
11:41 am

Administering Bates is more than just Lane Hall "doing its thing," says President Hansen's guest columnist

June 25, 2009
9:36 am

A story by The Boston Globe reveals how Daniel Berman '08, a graduate student at St. Andrews University in Scotland and self-described elections junkie, has "leaped beyond the blogosphere and into the global headlines" with a co-written article that points out "data-driven evidence of widespread election irregularities" in Iran.

May 24, 2009
12:23 pm

The Birmingham News profiles Joyce White Vance '82, a President Obama nominee as U.S. attorney for the Northern District of…

May 6, 2009
10:47 am

New sounds suggested by the Bates radio station jocks.

May 1, 2009
12:18 pm

From left, Yasin Fairley '12 and Claire Parker '11 rehearse "doesn't fall far from the," a piece choreographed by Lindsay Reuter '11, for The Bates College Modern Dance Company 's annual spring concert of new works.