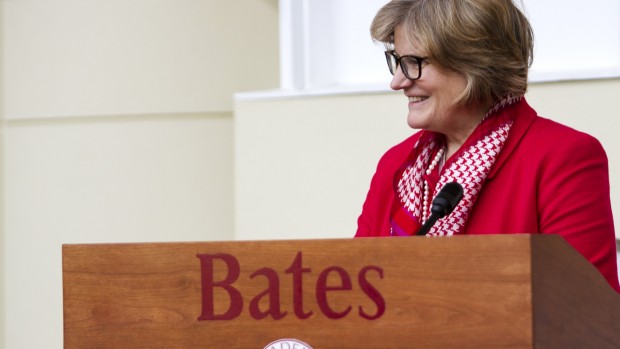 "We have ambitious goals for Bates, and I am inspired by this outpouring of support from the college community," said President Clayton Spencer.
Published on
Description

---

May 3, 2013
9:37 am

The third annual Bates College Folk Music Festival presents three days of contradancing, workshops and performances beginning May 9.

March 19, 2013
7:55 am

The panel discussion "Women in Public Leadership" scheduled for Tuesday, March 19, has been postponed because of weather and will take place on March 26.

March 6, 2013
1:10 pm

Reflecting the influence of African fashion abroad as well as the diversity of the continent's apparel, the second annual Inside Africa Fashion Show takes place March 15.

February 27, 2013
2:00 pm

"Breaking" at the world debate tournament is more impressive the more you learn about it.

February 27, 2013
12:03 pm

Years ago, Bates students would climb Mount David to light massive bonfires to celebrate sports triumphs or to drive away the winter blahs.

February 21, 2013
9:00 am

Spencer's interview on student radio station WRBC-FM touched on a range of topics, including the obligation of a liberal arts college to help graduates get job and what responsible investing looks like.

January 31, 2013
4:36 pm

The third annual Bates College Folk Music Festival takes place Feb. 8-9.

January 29, 2013
10:46 am

In its third year in 2013, the Arts Crawl at Bates has become a signature event, a campus tour that showcases student expressive work across disciplines.

January 18, 2013
4:27 pm

A kaleidoscope of student creativity in the visual, literary and performing arts, Bates' third annual Arts Crawl takes place Friday, Jan. 25.

January 11, 2013
3:00 pm

Student and alums team up to move the Bates Outing Club headquarters from Alumni Gym to Chase Hall.