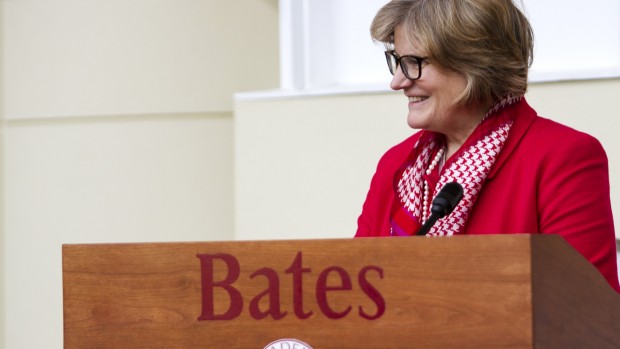 "We have ambitious goals for Bates, and I am inspired by this outpouring of support from the college community," said President Clayton Spencer.
Published on
Description

---

February 2, 2012
4:28 pm

Traditional and contemporary fashions from Africa are the focus of Bates' premiere Inside Africa Fashion Show on Feb. 10.

February 2, 2012
10:47 am

In a parade of patterned Spandex, competitors in the first Intercollegiate Winter Throwdown came brandishing team mascots, notably the University of Maine at Farmington's superb white-bearded gnome.

January 30, 2012
2:05 pm

Escape from the Jan. 27 rain and cold came courtesy of the second-annual Bates Arts Crawl, a showcase of student creativity that culminated in the show called Asia Night.

January 27, 2012
3:56 pm

Contradancing, workshops and performances by musicians from as far away as Montana are among attractions at the second annual Community Folk Festival.

January 20, 2012
6:27 pm

Here are a few scenes from the 2012 edition of the annual Puddle Jump during Winter Carnival. Run by the…

January 17, 2012
2:38 pm

Before reading the Call to Worship at Bates' annual Martin Luther King Jr. Memorial Worship Service, Dean of Students James Reese shared his memories of King's speech during the March on Washington.

December 20, 2011
9:33 pm

Here's a schedule, updated Jan. 12, of events related to the observance of Martin Luther King Jr. Day, Jan. 16, 2012.

November 29, 2011
1:50 pm

Lara Friedman visits Bates to discuss America's role in advancing Israeli-Palestinian peace.

October 14, 2011
8:34 am

The Bates community rallies in support of the historic Bates values of inclusion

September 7, 2011
5:42 pm

Video of a 2011 AESOP trip to Grafton Notch, produced by Taylor Blackburn '15 of Atherton, Calif.