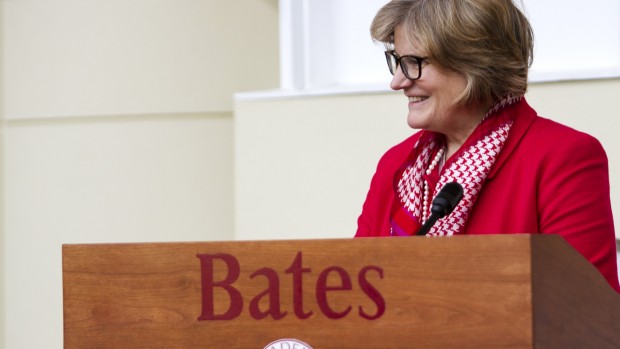 "We have ambitious goals for Bates, and I am inspired by this outpouring of support from the college community," said President Clayton Spencer.
Published on
Description

---

March 4, 2011
2:26 pm

The initiative of student political groups at Bates College has drawn to campus national figures from both ends of the ideological spectrum during a single week in March. Rick Santorum, a Republican who represented Pennsylvania in the U.S. House and Senate, addresses the topic of Islamic extremism at Bates at 7 p.m. Monday, March 14, in the Edmund S. Muskie Archives, 70 Campus Ave. Terry McAuliffe, who served as chair of the Democratic National Committee from 2001 to 2005, offers the keynote speech at the Maine College Democrats Convention at 7:30 p.m. Friday, March 18, also in the Muskie Archives. This talk, too, is open to the public at no cost.

February 4, 2011
8:43 am

Lewiston fiddler Erica Brown, the Boston-area folk-fusion band the Bridgebuilders, and local and Bates College performers appear at the Bates Community Folk Festival starting at 4:15 p.m. Friday, Feb. 11, in Chase Hall Lounge, 56 Campus Ave. Following the festival in Chase Lounge at 8 p.m. is the college's regular second-Friday contradance, featuring caller Chrissy Fowler and the bands Playgroup and Perpetual e-Motion.

February 3, 2011
2:44 pm

For the 11th year, Bates students are supporting efforts to reduce domestic violence with a production of Eve Ensler's The Vagina Monologues, in performances at 7:30 p.m. Friday through Sunday, Feb. 11-13, in Gannett Theater, Pettigrew Hall, 305 College St.

December 20, 2010
5:13 pm

• Click thumbnails above to view slide show Text and photographs by Matt Baker-White '13 Last spring, as I helped…

October 27, 2010
10:19 am

Tickets for the Oct. 28 gubernatorial debate are free and a limited number of them are still available on a first-come, first-served basis, via e-mail at .

October 8, 2010
2:50 pm

The Kinsey Sicks, singers who describe themselves as "America's favorite dragapella beautyshop quartet," perform at Bates College at 8 p.m. Wednesday, Nov. 10, in the Olin Arts Center Concert Hall, 75 Russell St.

October 6, 2010
1:42 pm

• Click the thumbnails below to view the slide show: A widely published Associated Press story describes how Alexander "Zand"…

August 31, 2010
3:00 pm

Over the next four days, student photographer Matt Baker-White '13 of Williamstown, Mass., will follow Bates' newest students as they head out on the 2010 edition of Bates' Annual Entering Student Outdoor Program.

August 27, 2010
2:00 pm

With finals looming the next day, the Bates Outing Club clambake at Popham Beach on May 24, 1953, offered one…

May 6, 2010
3:23 pm

Student-run theater group the Robinson Players presents staged readings of a Bates professor's adaptation of the Nutcracker story at 7:30 p.m. Saturday, May 15, and 2 p.m. Sunday, May 16, in the Black Box Theater, Pettigrew Hall, 305 College St. The readings are open to the public at no cost. For more information, please call 207-786-8294.