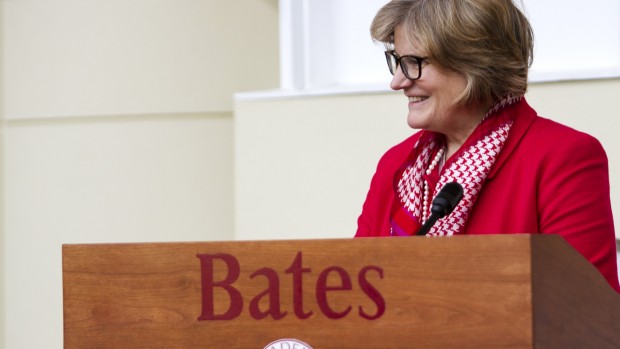 "We have ambitious goals for Bates, and I am inspired by this outpouring of support from the college community," said President Clayton Spencer.
Published on
Description

---

July 11, 1997
4:19 pm

Rennie Harris PureMovement, an electrifying eight member dance company rooted in hip-hop culture, will perform two powerful new works at The Bates Dance Festival, northern New England's leading contemporary dance presenting and training program, at 8 p.m July 25 and July 26, in Schaeffer Theatre, 305 College St.

July 10, 1997
4:11 pm

Bates College will present a new series of indoor chamber music concerts this summer. The series consists of four evening…

June 18, 1997
11:35 am

Bates College will present two separate concert series this summer, including a new series of indoor chamber music concerts as well as the traditional Lake Andrews performances.

June 2, 1997
10:28 am

The Bates Dance Festival invites senior citizens and teenagers from Lewiston-Auburn and surrounding communities to participate in a three-week intensive workshop, July 28 through Aug. 15, under the direction of choreographer and educator Jeff Bliss.

June 18, 1996
11:22 am

The Bates College Midsummer Lakeside Concert Series will present five Thursday evening musical performances on the open-air terrace overlooking Lake Andrews behind the Olin Arts Center. All concerts begin at 6 p.m. The public is invited to attend free of charge.

June 14, 1996
11:18 am

Olympic gold medalists Bob Richards and Dick Fosbury will be among the coaches at this year's Bates College Track and Field Camp for boys and girls age 13 to 17.

May 9, 1996
11:28 am

The Bates Dance Festival, one of the nation's foremost dance training and presenting programs, invites local residents to participate in two programs this summer.