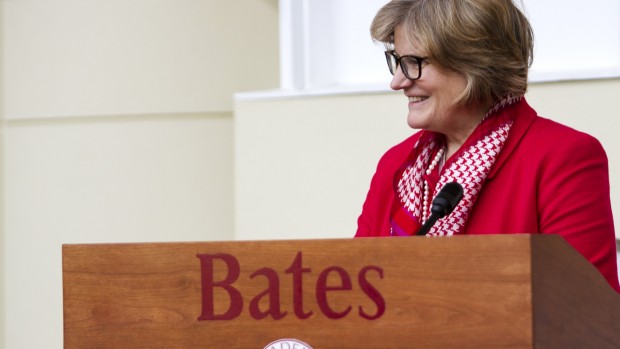 "We have ambitious goals for Bates, and I am inspired by this outpouring of support from the college community," said President Clayton Spencer.
Published on
Description

---

July 11, 2013
2:58 pm

Misty Hyman boasts not only an Olympic gold medal, but an amazing and inspirational story to go with it. Hyman…

July 2, 2013
9:30 am

The Bates Dance Festival, a renowned summer series of contemporary dance, announces its 2013 season of public events.

May 31, 2013
1:18 pm

Bates' popular "Clean Sweep" sale returns for the 13th year on Saturday, June 15.

August 9, 2012
5:15 pm

Summer scholars are academically gifted first-year students who might be unfamiliar with the ins and outs of the college experience.

August 8, 2012
8:04 am

The Mango Grove Steel Band, praised as "New Hampshire's best," closes the Midsummer Lakeside Concert Series on Aug. 9.

July 30, 2012
1:00 pm

The Merrymeeting Community Band performs a Midsummer Lakeside Concert on Aug. 2.

July 25, 2012
3:12 pm

First in a series, Jenny Bergeron '14 is studying snail neuropeptides in relation to feeding behaviors.

July 25, 2012
11:15 am

Second in a series, David Harning '13 studies core samples of lake sediment for his geology thesis.

July 24, 2012
4:00 pm

Artfully combining jazz, folk and blues, Jenn Adams performs in the Midsummer Lakeside Concert series July 26.

July 24, 2012
4:00 pm

Kate Weare and her company present their striking new "Garden," which explores the depths of human relationships, July 27-28 at the Bates Dance Festival.