Archives for "Commencement"
---
Sunday
May 27, 2012 12:38 pm

Thank you, Val [Smith '75, trustee presenter], for that lovely introduction. Congratulations to the Bates Class of 2012. What an…
Sunday
May 27, 2012 12:35 pm

Yesterday I met my fellow honorands for the first time, and I decided that I instantly love them, but now…
Tuesday
April 17, 2012 10:00 am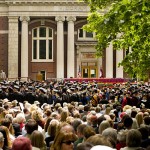 Bates Commencement 2012 will take place on the historic Quad at 10 a.m. Sunday, May 27.
Thursday
June 9, 2011 2:56 pm
Videographer Josh Ajamu '14 of Breinigsville, Pa., and I headed out to Alumni Walk at 9 a.m. on Commencement day…
Monday
June 6, 2011 1:00 pm
In her annual Baccalaureate address, President Elaine Tuttle Hansen tells the seniors that when we complete one of life's challenges,…
Wednesday
June 1, 2011 11:27 am
The evening before Commencement, the honorary degree recipients gather in the Olin Arts Center Concert Hall to share personal insights…
Tuesday
May 31, 2011 4:48 pm
* View the slide show by clicking the thumbnails. Always uplifting, the 2011 Commencement ceremony had a conversational, convivial spirit,…
Tuesday
May 31, 2011 4:01 pm
Each Commencement season, we share brief videos of Bates seniors reflecting on their Bates experience. These comments come from a…
Tuesday
May 31, 2011 3:37 pm
Each Commencement season, we offer brief videos of Bates seniors reflecting on their Bates experience. Here, Margaret Cadden '11 of…
Tuesday
May 31, 2011 3:35 pm
Each Commencement season, we offer brief videos of Bates seniors reflecting on their Bates experience. Here, Uriel Gonzalez '11 of…